hehs. been out these few days! :DDD
and sometimes im drop dead tired when i reached home.
and thus the delay in blogging!



anywayy.. went out with fangjie and ivan on thursday!
if im not wrong. hahahah.
was pretty much a last min decision~

anywayy, we met at bugis, and lunched at pastamania!
went walking around haji lane, arab street, bugis st and etc.
walked around everywhere until fangjie gotta go back sch!

she had strings. hahaha.
anywayyy, bought quite a few things that day. :D
bought like 2 tops, 1 dress and 1 leggings. hahhaa!

and i swear im not going to touch any SWEETALK drinks anytime soon.
firstly, they are over-rated.
secondly, their drinks standard going downhill.
thirdly, they are absurbly expensive!

anywayyyy, it gave me some mild food poisoning after that.
when i reached yishun, felt like vomitting and my stomach hurt like hell!

couldnt walk and i actually had to find somewhere and sit.
and the stupid bus keep jerking non stop! sdlkghdlgdfgsfj.



-------------------------------------------------------------



Anywayy, had nova outing on friday! ((:
and somehow, i had so many invitations to diff things that day.
and cause it was planned pretty early, had to give ger's bdae a miss.
and inez goh i shall see ur......... date sooner or later haha!

met up with sd, her cousin, bobo and co that afternoon at plaza sing!
others came along after that.
lunched and somehow we headed to the suntec to walk around,
since there was this COMEX going on.

was so crowded! and think i only saw stenphel.
anywayyy, gave up walking after that,
and we decided to go to night's house!
had a last min invitation from him to his bdae celebrations.

so cabbed down to his house!
was so paiseh, cause know non of his friends.
and we were like some animals at his house.
we were slacking in his room and his friends kept coming up to check on us.




anywayyys, while waiting for angie and gary,
we were busy using his comp. hahahah.
and since it was pretty last min, didnt prepare any gift for him :x
so paiseh. and decided to draw a birthday gift for him!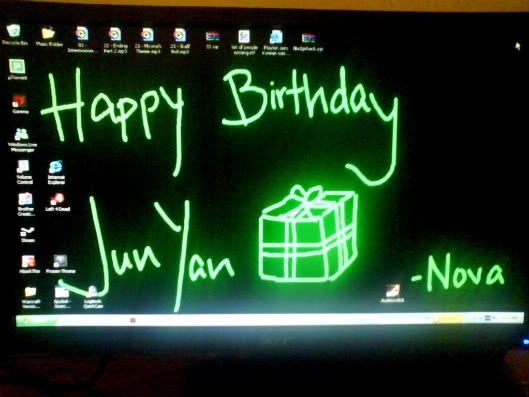 €


and we set it as his desktop pict hahaha!

and this junyan har... dnt have a habit of knocking before coming in.
and we were drawing this secretly!
each time he came in we practically jumped okay.
tsk tskk.

anywayyy, had dinner over there before we left at 9plus.
thanks night for your invitation! & happy birthday in adv!!
and that night... i cabbed home LOL. i gave up the thought of taking 969.
afterall he lived in Simei !!! (and we din know he was that RICH)

hahaha. kaching kaching flying away again.



---------------------------------------------------------------------


anywayyy, saturday!
(apparently im writing summaries now........)


was supposed to stay at home cause mum told me she's not working.
and usually its equivalent to asking me stay at home.
so i pushed away all dates. sorry coco again :x

anywayy, who knows when i woke up,
MY MUM WENT OUT HERSELF ALR!
still go hair treatment and facial somemore!!

feel so cheated laas. never call me!
and when i went online ck asked me to go Comex, which is like again! :x
at first didnt want to go ahahha!

but still.. did went out. met him + fion at 4 !
so walked to suntec comex to disturb the ppl working there~
and it was much much much more crowded than friday! + more heiheis !!!


anywayy, saw quite a few dancesports seniors. lazy to mention name~
plus amelia, sy, solomon and etc. :D
walked here and there, fion left with her friend while ck's friend joined us.
alvin i think.

and for the whole day its just walking and more walking!!
after their dinner we went to play pool, tgt with alvin's friend too.
played till 8plus or 9 before they went to eat.

& mum nt feeling well so ask me go home. ~
so..... went off early. :D my legs nearly broke that day. hahaha.
but somehow i wasnt tired. so i msned till 7am in the morning lol!


AND TODAY I STAYED AT HOME. :D
im such a filial daughter hahahah!!
although i got dragged off the bed at 12.

did alot of misc stuffs today and im deciding if i should open a blogshop with sprees and etc anot. arghhhh, headache headache.




PS, Happy Belated Birthday Germainnnn!!!

Sorry couldnt go to your celebration on friday =\
love you anyway!! ♥