Spaghetti

"Men are like laxatives, they irritate the shit out of you"
HAHAHHA. okay i know this line is very common and alot of ppl knew about it.
but anyways, inez and i like to joke about ppl saying they're so "men". hahaha!


okay anywayy... blog about my day!me and fangjie decided not to go dancesports today.
&& besides , im having a D3 camp this upcoming thursday ~ sat!

so anyway today... wanted to go northpoint slack but cant find anyone!
and my bro insisted on me going cycling with him.
he got 2 bikes at home and its like so BIG to me !


okayy so we went cycling around the neighborhoood and etc etc.
and i sort of like ask him to cook spaghetti for dinner ltr HAHAHA.
i like italian food :) :)

so we went to NTUC after cycling :D


ta-ta~
some of the ingredients!
now that i learnt how to make spaphetti alr i shall teach you!
hahahahah~

and my bro cant be bothered with me snapping the picts away.


and those spaghetti before boiling them is like sticks!
my bro still tell me got alot, play with them for all i want. -.-



#1. okay first..... BOIL WATER!

#2. when the water is boiling, add some salt &
add in those spaghetti sticks! okay whatever you call them hahaa
#3. add in ABIT of oil too :D
#4. okay then let it boil away ~
when its almost done, drain the water away and
put the spaghetti noodles somewhere else !
And while waiting for those water to boil...
you can prepare your own ingredients !
whatever you want to add into the sauce later on.
So i got BUTTON MUSHROOMS!
hahahaha i love them to bits.
anyway, i got moodswings when i cut those mushrooms.
cause they are all in different shapes HAHAH.
okayy kidding.
And then i have Ham !!
you can actually settle all of them from NTUC :D
oh anyways,... slice them!
i used about 5 slices of ham only !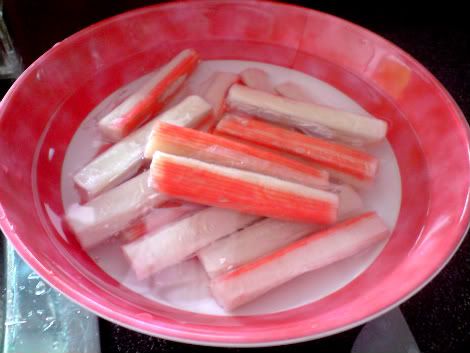 And i have crab meat hahahaha!
okay i know weird combo but i like it !
teehee you're ready to cook the sauce :DD
and so.....
add abit of oil
to the pan and pour in all your ingredients!
fry your mushrooms and crabmeat for awhile if you like it (:
anyways... while doing this i guess it'll still be hard for me if i want to cook afterwards.
cause just by standing by the side i could feel the heat already!!
i have low tolerance for heat
and thats why i suck at cooking HAHAHA.
i remember i always ask inez to cook during F&N in sec 1/2
while i volunteered to do the dishes HAHAH!
pour in the sauce from the bottled container too!
remember to add water to them with the amount
1:1
and lastly the ham!
and since it was a blur shot...
i wanted to take again.
who knows my bro decided that the sauce is not enough,
and went to pour abit more !!
... failed attempt to look
slightly professional
. -.-
and tadahhh~
you get the sauce done after some heating and etc :D
okay this amount is about.... 1 and a half bottle of sauce + same amount of water!
:DDDDDDDDD
okay it doesnt looks very appealing anywwayy.
cause i only realised i forgot to take pict
after
i start eating HAHAH.
taste very nice!
next time i shall add tomatoes !
hehs. okayy end of exciting day.
anywayy.... tmr's wednesday!
feel like going northpoint to slack / watch movie anyone free? :DD
im lazy to go town HAHAH.


okay toodles !