teehee. okay today i shall finally sit at home and blog about D3 dance camp :D
hmmms, decided not to wait for pictures and just blog with whatever i have. haha
i shall try and cut short everything heh~
Day 1 Thursday!
hmmmms, went to school early in the morning~
was quite tired cause i couldnt sleep the previous night.
anywayy, had some icebreaker games which they called,
but it doesnt seemed like one. cause most of them know each other alr!
played some water games and etc, think cheers and so on before we had our lunch!
then went back to school awhile.
learnt mass dance and we were off to play some treasure hunt.
hahaha. actually the thing i dread most about camps is
treasure hunt.
haha!
cause always have to run from one end of the school to another, and back again. -.-
okay anywayyy, head back to loft after that to rest.
had dinner, before going back to school for some movie marathon.
but end up watching
"so you think you can dance"
and i fell asleep there.
hahaha. finally can go back loft! and was told to chereograph our group dance.
and suddenly at night, they told us to go back school for
second round of treasure hunt!
cause they changed our room's door lock number,
and we were supposed to go find the pin somewhere in the school.
and its midnight!!
goshhh. my group were quite pissed off.
they kept swearing hahaha! ran around and etc.
stuck at the last question.
dont know what goats and sheeps on the farm.
how many legs here and there and etc. -.-
finally went back to loft at around 2am!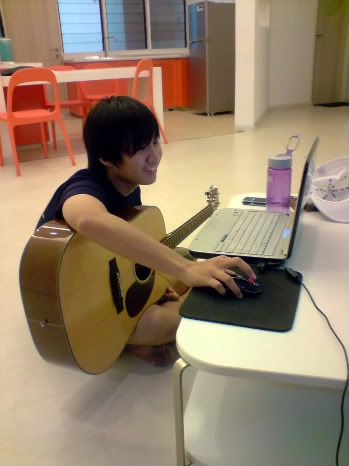 kahhao kept on playing the guitar even at midnight.
and got scolded by the girls who were sleeping.. haha
Day 2 Friday! :D
woke up in the morning, was told to try and choreograph our dance again.
until around noon when we went back school for lunch, before heading to studio!
day 2 was much more fun.
cause we learnt different genres of dance!
We learnt
broadway jazz
and
lyrical jazz
that afternoon!
the vid is on broadway jazz. something very chicago style i think.

then we had to imagine we were wearing hats and etc.
hahah so cool lah :D except that i cant moonwalk haha!
now im still waiting for others to upload the lyrical jazz vid!
i like lyrical jazz.. cause its very technical !
have to put in alot of emotion and etc... and i suck at the pirouettes part!
although its just one turn for it, i still cmi!
anywayy, went back to loft to finish up our dance, while waiting for the D3 night!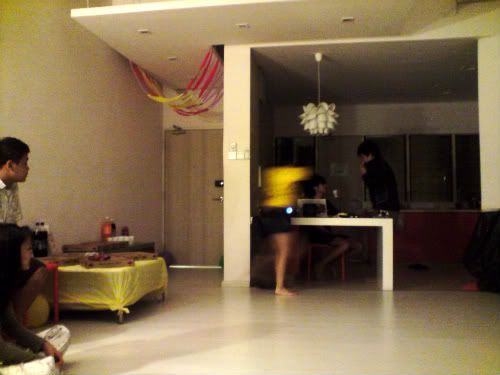 and it was held in the commitee's room. we had to wear pyjamas!
had pizzas for dinner, had some games and etc before progressing with group dance!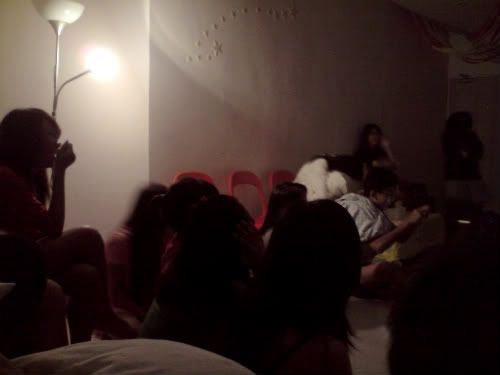 i kept on forgetting the steps and it was a mess haha!
anywayyy, had some more games and etc after that.
and also had a sissy dance put up by the guys.. hahaha.




hahah anyway, after that i went back to our room early :D
either i was surfing the net or i was trying to learn the guitar hahah!
but my nails were so long and i had a hard time at it.

gave up and ended up watching korean movies on kahhao's laptop.
hahaha. watch till 2plus before i finally slept. too tired hahaha.


Day 3 Saturday!

hehs. woke up, cleared and checked out of loft!
after breakfast we headed back to studio again for dance rehearsals :D
they're having a performance when school reopens i think..

hehs. was so tired after that! breakcamp at around 1.30 i think.
went home, ate and slept all the way~~~~
hahaha. was too tired to even bathe! teehee.


and today im staying at home to rot!
too lazy to go to northpoint to mail out packages.
hmmm mmmmmmm.


oh and i got the whole OST for the movie Fame!
who wants can find me on msn! :D