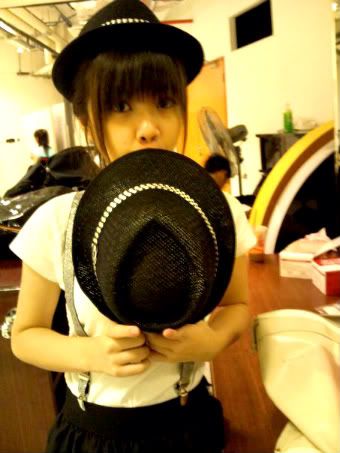 teehee.
junqi said i looked like a doll with my makeup and hat hahah!
anyway... i decided not to upload those pictures afterall.
cause they're simply too much! you could stalk me on fb! hahaha :D

anywayy.. the first week of school is gonna be over soon. (:
just that we all had only lectures for the first week. but i still kind of prefered tutorial classes.
had workshop todayy. (: our tutor was kind of strict. and yx kept saying she's bitchy HAHA.
DSS... another module similar to ITB. now its all excel.

however, the thing is that since its all about excel,
it seems like joycelene they all know how to use it! am i dumb or what? T___T
just the first lesson, and they were already discussing how they were going to do this and that.

i was sitting there listening them chatting back and forth without a slightest hint of what's gg on.
LOL. not a good feeling for DSS.. although i kind of want to put my effort in it. hmmmm..

anywayy.. had a big hoo-ha today. just as i was preparing to go sch today,
i cant seem to find my white pouch. cause usually i'll just throw my earpiece / internet stick
and whatsoever into it and bring to school. looked high and low and i couldnt find it!

nearly got me late.. and decided to just go to school.
was so tempted to make a run to the CC before going to classes,
(cause i had used it to put all my cosmetics inside for the performanceon tuesday,
and the last time i rmb holding it was when i was washing off my makeup in the washroom)

ran off straight after workshop. and couldnt find anything there.
even went to the atrium and sadly nobody had reported the loss.
so just went home first. i've even made a report!

goshh... can u imagine how worried i was... all my cosmetics inside!
foundation.. loose powder.. lipgloss.. brow pencil.. eyeliner.. eyeshadow.. brush..
dnt evn dared to tell my mum about it. cause they dont come cheap!
i've even went to ask around on facebook...

right till at night, when i was chatting with liping, she told me she had found it that day!
and its with yuting now.. just that my pouch is kept in the club's cupboard.
shall get it back next monday! hahaha... thank goodness!



------------------------------------------------------------------



anyway.. back to this sem... im pretty glad that im with my friends!
although with the abit-but-not-that-sucky-timetable.
hahaha. the tutor thought that we were all from the same class,
and it just dawned on me that the 5 of us came from 4 different classes,
but we're still as close! hahahha!

classes are totally enjoyable with them hahaha!
its like we can really crap anything with each other!
and...... GPA 3.5 im coming!!

and nowadays had been chatting with quite a few people..
and it actually feels quite nice when some actually mentioned i helped them in a way or two.
teehee. ((((((:

im craving for pizzahut! shall ask clique to go for it later after lecture later on!