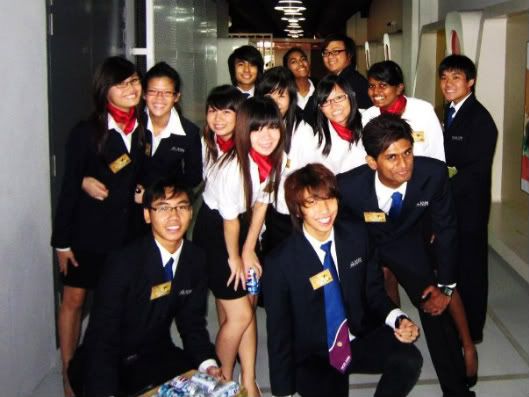 "Hi Welcome to School of Business & Accountancy !!"

hahahs. yea and that's the line i had been saying all around the BA school today hahha!!


anyways, the atmosphere at my blog hadnt been very good, i suppose.
thus im here to share with u my exciting mornings!

its RED CAMP 6 !!!!

and we the BA Envoys had a "Fly Business Class with BA" theme.
and so we're all air steward and stewardess.
teehee. i love how those students go "gasp" when we push out those trolley carts.
so cute!! although i didnt get to see Centurious.
i had to deal with Spartans and Horny Vikings HAHAH!!



we were the game facilitators and im very thankful to Puvin Ruslan and one more guy,
who came to help me out today cause somehow,
i couldnt shout. omg! and so during the game,
i only help take down scores and smiled to everyone lol!!

anyways, somehow RedCamp event made me pretty sick.
After the first day, at the end of the day after my jive class,
had a splitting headache! went home, and i just fell asleep like that.
with lights on, lappy and desktop on. i guess this month's electricity bill gonna explode!

and worse, i forgot to set my alarm clock!!
woke up at like 9 today, where i was supposed to meet my friend in sch at 9.30 gosh.
cabbed down to school! tsk tsk.
and right after RedCamp today, felt sick again during class.
chua hwee kheng must think that i never contribute to PBL :(


anyways, i guess i'll stop here HAHHA.
cause im waiting for the others to upload the picts!
teehee. looking at them lifts my mood (((:


edited at 8.29am : IM IN SCHOOL ALREADY!! too early T_T