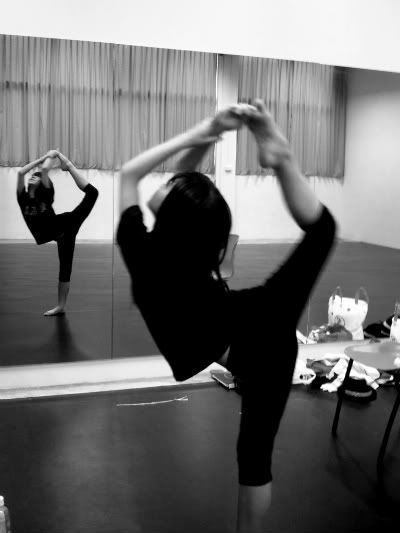 i just wanna shout :
"ZHOU LEI I DID IT ALREADYYY. CAN YOU SEE???"
thanks many to jiemei to help me take this shot. hehe.
***LIKE***

after............ 4years. i managed to hold there. ahahahhaa.
but my hand abit off, cause both hands supposed to hold the leg =P
and zhoulei was my sec school dance instructor. hahaha miss him so much.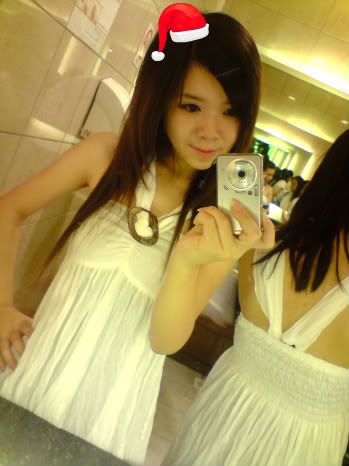 Lyrical Jazz dress (:
with santa hat HAHAHA.
saw it on photobucket. so cute.
whoever take pict with me on xmas im gonna paste it there.
anywayy, so sorry for the lack of update. ahahhaa. was really too busyy.
had performance ytd night, one was still ok, the other horrendous =\
i was at the front line and i did my steps wrong at the start.
and during the posing yuting's hand hit my hat and it dropped to the ground. (OMG)
and at the very end during the posing, my hand also hit yuting's hat. arghhhh.

and my suspenders spoiled at the last moment,
plus i got no jazz shoes, so u can already imagine how distinctive i was.
T___________T dont tag me in the vid if there's any!! sigh. feeling so bad after it!
anywayy, the rest of the stuffs i shall blog in my next post or so.
ahaha. if you wanna see the picts its mostly on facebook :D hehhs
just 2days ago. but it seemed like a long time ago ahahha.
cause i fell sick right after my exams ended. (Y)
felt like dying. my nose raining cats and dogs.
and each day woke up with splitting headache. arghhh. and i still had to go for dance.

AND YES, that's what i did to my comp when i was studying HAHAHA.

shall make a visit to doc soon............ i suppose ahaha.
tmr im gonna hibernate at home, and shopping on tuesday w deardear!! ♥♥
hahah. kj came to fetch me after my Blaw paper in school,
cause he's going overseas on the next day.
accompanied him go around for his work while i just slept in the car.
ahhh. blaw was so........... fksghsfkgsddf

went to island creamery for icecream around 3plus :D
he went to yishun to cont his stuffs while i watched "500 days of summer" on the way.
after he's done we went to bottle tree park to walk walk and dinnered there.
and they spam the onion like no tmr hahahaha.

ate until so fulllll, slacked around abit before going yishun dam to slack.
ahahhaa. slackers. but ended up watching Paranormal on my lappy there ahahah.
went back home at around 10 or 10plus (:
POA exam ended on friday, but went home after that all thanks to my flu.
but went back school in the evening for dance. ((:
I WANNA GET BETTER LEY
.
i dont wanna be a dumb on xmas,
when my voice is threatening to disappear zzz.
just finished group proj at Starbucks at SSC!
now so many stuffs to follow up!