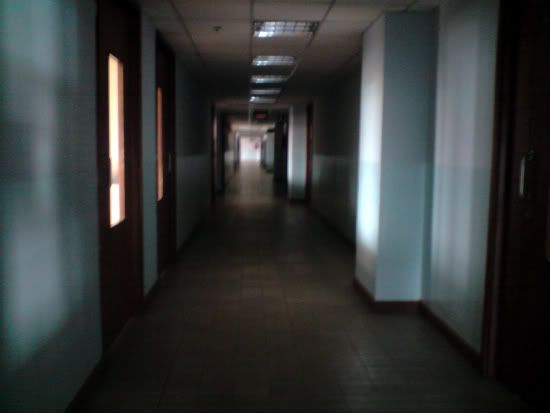 im updating ever so regularly! hahahha.
yesterday was a tuesday and had to go back school for just POA tutorial!
it was study break for School of BA already. which means the whole level it's just
only
our class!
the whole corridor unlit lorr. looks so much like block 50 hahahaha.
anywayy, after class dar0 came to fetch me ♥
accompanied him to do his stuffs at beauty world and hougang before going to back to ceylon road to help him shift any last stuffs that they might need.
finally ate my prawn mee!
hahahhaa. been craving it for long. :)
after that went to burnfoot to help him paint the room! hahahha.
never paint room before. :D but then again its just a small portion.... hahahha.
i think his bro kedi's very creative. :)))) like his concept which he made for his own room.
dar0's room was black and white theme. everywhere still in a mess hahahah. kind of a headache.
he finally put up his curtain already! but his curtain is so sheer. hahahah so funny.
put up a picture and some spotlights and etc... and its night time already!
although its not done but it looks kind of cozy :D
dinner was at LemonGrass.
kedi's treat for all of us. hahahha.
and coincidentally malvika was at that place too! so shocked. hahahahh.
food was great and all~ laughed much. Arther damn cute lol! and amos was showing me his deck of cards. reminds me of those pokemon cards we played during our generation hahahah.
went back to his house after that. by then was kinda worn out so i just slacked. dar0 still tidying his stuffs. so many! here bags there bags all unpacked hahahha.
think around 10.45pm before dar0 and kejie sent yijing and me home :)
but then i already fell asleep on the way.... hahahha. mwahhhs dar0! ♥
mum took leave today and so she was at home. else i'd have went out hahaha.
so stayed in today, and ended up clearing my cupboard. hahahha. too many books and stuffs.
stupid brother. when he clear room everything throw to me. now got so many things.

see the big mess hahahaha. but manage to clean up everything laa~ hahaha.
still helped to vacumm the whole house. change bedsheets and so on.
by then also night time already! which means i forgot to study HAHAHHA.

why does exam have to fallright after CNY. such a spoilsport lorr tsk.


AND I HAVEN GOT MY CNY CLOTHES LEY HOW T_T