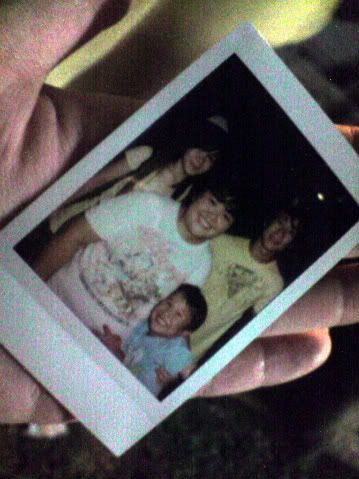 This post shall be mainly on Sharlyn's birthday chalet from friday till sunday :D
but didnt stay over thou hahahha.
woke up in the morning (friday no school again!) and packed my stuffs.
took 969 to Tampines to meet up with Sharlyn to buy her chalet stuffs :D
and i didnt knew it took only like 20 plus plus minutes to reach tampines from yishun!
went back her house while waiting for my love to come fetch us :)))

saw sharlyn's 2 dogs. they didnt really bark when i went her house.
but once dar0 step foot..... hahahhahaha. so funnny.
went down to downtown after that! checked in and stuffs, and sharlyn's 2 friends came first!

so slacked with dar0 upstairs. watched Hi SweetHeart Ep1 on my lapppy :) knew he wanted to watch it long ago!
after that around 6plus we went out to E!Hub~ caught the movie 14 Blades!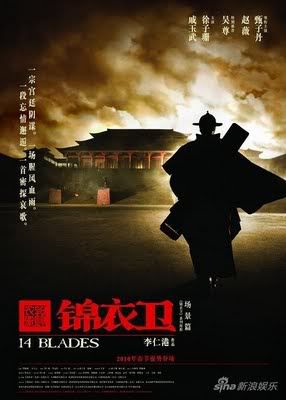 i seldom watch this kind of movie.. but i think its nice!
just that sometimes its kinda violent. and i kept asking him why he likes it when its so violent lol!
but its still nicee :) go watch go watch. got wu zhun inside with his 8pack abs. hahaha.
but he's so skinny where got nice hahahaa. still got Miss HongKong inside!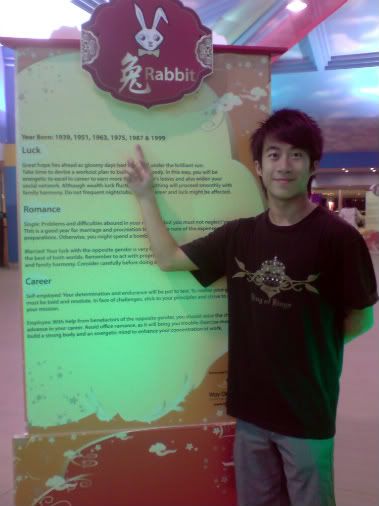 went to walk around after that~ :D
went back to sharlyn's chalet and watch them play games.
hahahhaa. quite funny. and they werent allowed to use the toilet lol!
stayed till around 10plus or 11 before wei and eugene came too.
stayed for a little while more before we went out again!
went to various places to see the fishing / prawning spots.
went to farmway and we saw the Catch and Release pond.
someone caught a very big fish! lucky us to see it~ hahaha. and its reallly big!
after that we went to ChompChomp (?) for dinner / supper. hahaha.
had like wings, hokkien mee, stingray, choc / strawberry / almond tauhuey!
hahahha. sounds weird but quite nice! :D

after a few places we went to somewhere near guilemard (?)
2 of their ponds became crabbing ponds instead of just prawning!
and their rates is the same as prawning rates. and the crabs not those small small kind lor!
hahahhaa. wanna try it some day :D
someone's pail with a super big crab!!
just look at the pincers lor! hahahha~
dont know is he bring there himself / caught there one. hmmm~
by then its around like 2am or 3am already!
went back to dar0's house to bathe before sleeeping :)
early morning got woken up by the big sun already.
haahhaha. by still rolled here and there till like 11plus. :)
bathed and waited for dar0 to be back. cause i think he went out for some survey thing.
plus bring ahma go doctor :) so went out at around 1plus! accompanied him and eugene to their soccer at the cage :D

went off at 3~ and headed home for awhile before going to Sharlyn's house to help them fetch BBQ food!
they brought the whole NTUC trolley lorr hahahah funny.
after that went to Ikea with love.♥ kedi, kejie and yijing were already there thinking of what to buy for their rooms :D cant wait to see how my dar0's room turn out :)

went to Sharlyn's chalet again after that! by then its filled with people people and more people!!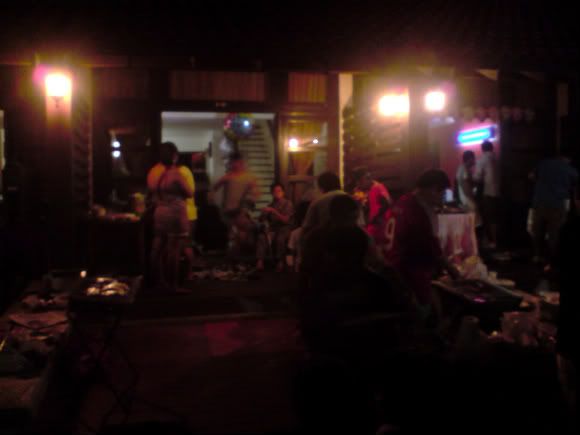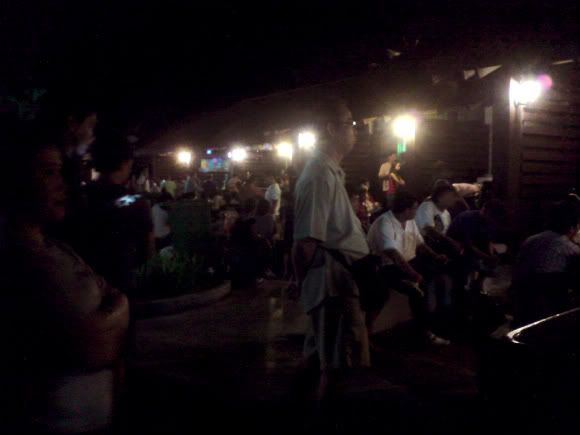 and beside their chalet was people smashing whipped cream HAHAHA.
all stand far far away from them lol!
had so much people around there. all was waiting for sharlyn to cut the bdae cake. :)
they wanted to go somewhere else for dinner as it was too crowded!
dar0 was busy helping them with the BBQ and stuffs and he got me smth to eat ♥
kedi angela kejie yijing ama and relatives all went afterwards alreadyy.
think they went to Bedok for Bak Chor Mee :D
dar0 was still helping sharlyn with BBQ and stuffs. :)
so left me, eugene, junda (?) waiting for Wei. but Wei still stucked somewhere in SG. hahaa.
sorry to dar0... cause i kinda threw temper at him T____T

cause the place was really crowded and stuffs... with people i dont really know and so on.
plus was sticky and warm and..... dont know what we were waiting for at first. so kinda threw a temper...

but i know all these are just excuses. :( so sorrryyy dar0. promise this is gonna be the first and last time. i also dont know what got over me. felt so so so guilty the moment i did that.
so dar0 decided to leave first instead of waiting for Wei. almost died of guiltiness that night.
headed to Bedok to find the rest for Bak Chor Mee also. wasnt feeling too well so practically gave most of it to Dar0. planned to go out fishing or smth, but since was so sticky and warm, decided to head back home first to bathe.

but who knows after i bathe my cramps almost knock me out. Zzz.
wanted to drink something hot. but the moment i drink some water i feel worse.
sometimes its better to be a guy lorr.

we stayed in afterwards and didnt go out le~ hahaha.
but that night suffered from insomnia lorr! hahahaha.
3am plus im still awake! the sky full of stars :D
late into the night and im the only one awake! feels nice actually... nice to ponder over stuffs too!


sunday morning! lazy to blog more, but was playing with the webcam with dar0.
hahahhaa. lots of nonsensical stuffs here and there.. teehee :P
shall not upload all~ hahaha~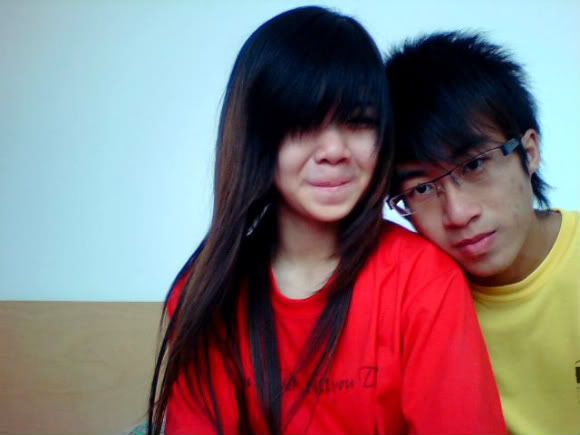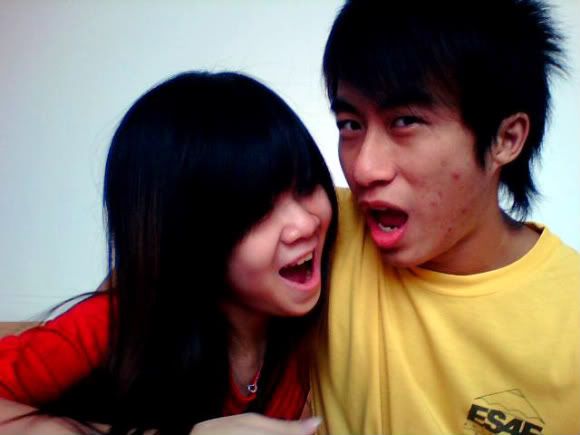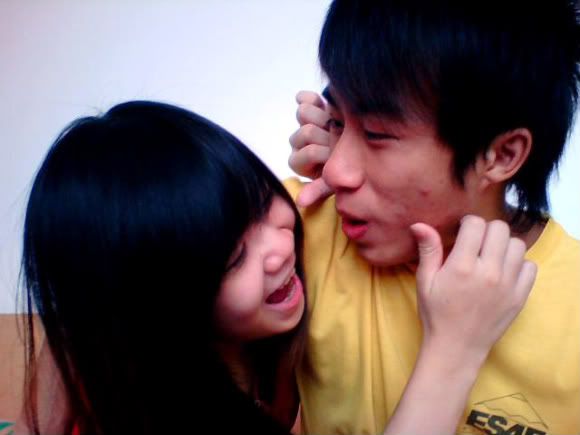 yea im gonna pinch him hahahahha~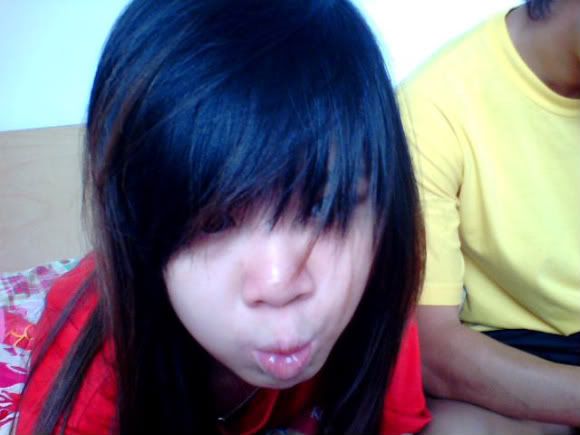 ♥♥♥
to my dar0.. although u dont allow me to say sorry but im still gonna say it. hahaa.
cant get what happened out of my head though.
sometimes i think im really such a sucky girlfriend. plus a violent one hahaha.
add on a lil bit of immatureness.. but im still learning, still changing.
tahan abit with me kk! :P
love yous. (: