needs a shopping trip!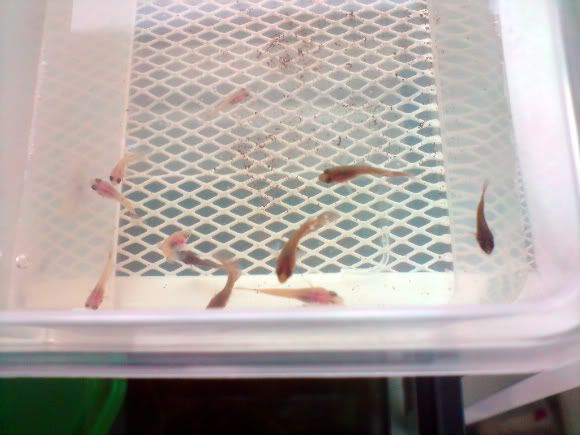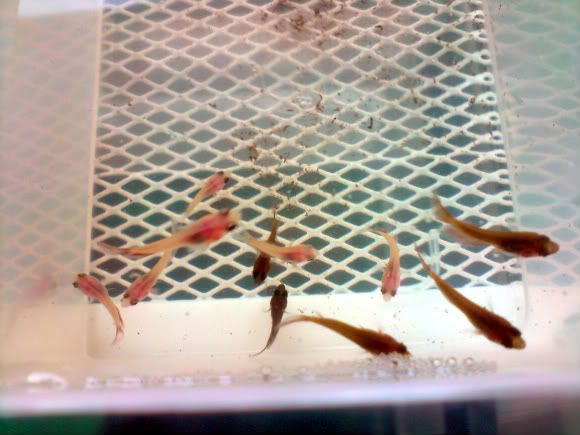 Baby fighting fishes!!



these are the babies that my love had been breeding for his muaythai fishes!
they're a few weeks old i think.

hahahaha. and they're the medium sized baby :D
the small ones too small to take picture hahahaha.

think there's around 60 of them! =P

both the daddy and mummy are red crowntails. mummy with darker shade for body.

so interesting to look at them lor!!

their tummy gets bloated the moment they eat one big worm.
and you could see how they snatch food / drag the worm across the place cause its too big for their mouth. hahahahah.



darn cute!!



and u could see which of their traits belong to the mum or dad. hahahha.

and the best thing is.....

im gonna bring one home next week or something!!

when they grow bigger i guess. cause when they're young cannot change water here and there!
different PH lvls. might die o.o

teehee. meanwhile the 2 halfmoon fighting fish babies are so round and fat.

hahahahhaaa.

think u guys also dont know what im talking ahahaha.

and im gonna put in many many fish toys for them to play. :D im such a good mummy.


i've been at home for dont know 4 or 5 days straight already!!!
with my bro asking me for mahjong every 2mins apart yesterday. .
cause he's injured and cant go anywhere ahahahhaa.

besides, dar0 been coming around often :D
the other day came to help my mum fix her comp. her comp running much faster now.
my brother still say spoil, ask her throw away. lollllll.
and dar0 also helped me reformat my desktop! cause too many things and running kinda slow.
downside is that i have to slowly install my games back!

had mahjong almost every day or every other day.
didnt win too much nor lose too much. cause they play 10 20 cents only.
yesterday played with bro, clara and love, and played until like 11pm! LOL.

having fun and relaxing and rotting my day every day. hahahhaha.
i feel kinda guilty at first cause its like, im not studying nor doing anything.
but then again, its my holidays! HAHAHAHAHA.

and i heard that this upcoming august we have 4 weeks holidays due to YOG2010!
super duper happy cause my examinations would not fall on my birthday and i can celebrate!!!

HAHAHAHAHA. i love you la! muackz.

cause the previous 10 years of my life, or rather since i started education,
exams never fail to fall on my birthday. which means i cant celebrate. hahahaha.
although birthdays are kinda overrated. HAHAHAA. so contradicting.


right now i wanna go shooppping ley..... any of u girls free to go shoppingzxzxz.

deardear!! wru!!