the best lesson in ngee ann poly yet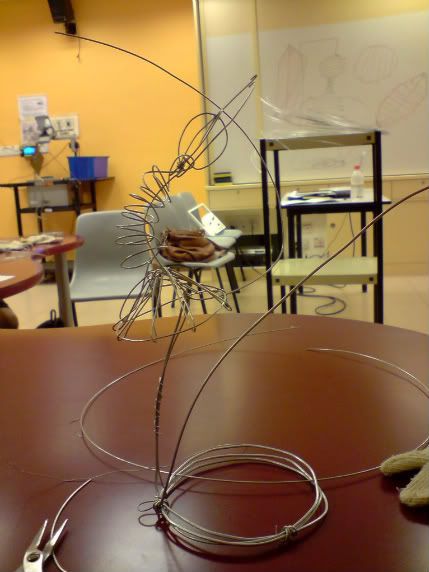 hello wello jello. if you have been keeping yourself updated with me on livejournal,
you should be able to know that i took up art & design for my IS module!

and um, dont ask me why, but just sometimes i feel i could blog better over at livejournal and hence im there LOL. yea nuffie please give me a proper advertisement!! :( so i could like just hop over to livejournal right now.
yea anyway, set the wrong alarm timing and hence woke up one hour late!! rushed like some mad woman to school. lesson was quite pleasant with our tutor (quite young) showing us some inspirational videos to help us discover yourself or something. p.s, class was awesome cause its super relaxing!!
and since i was late, the guy who sat beside me told me that we're supposed to make out a body figure that could represent you and your feelings with wires. well the first thing i could think of is only dance. ;o

so went to facebook to dig out one of my dance pictures and see how i could proceed from there!! was so so lost from the start so i was just staring at people / looking around at first. decided to anyhow whack and came out with this.

the picture on top is when my figure is about 80% done. :D the ballerina skirt came to my mind last minute, and i guess it gives the whole figuring a feeling!

close up!



was very very proud of the outcome myself!! and my tutor was quite impressed (blush). teehee. kept on saying "very good" until i had to check if i flew to the clouds not. hahahahaha. she said this was a very good design, able to bring out the whole feeling, and..... just.... that something.

and there came the presentation time. just whacked whatever i could think off. hahaha. and my tutor graded me A on the spot. :))))))) happiness x1000000. and we were allowed to bring this home!! time to work on my journal
met up with sharlyn and eugene for lunch, where my dar0 came over to my school to lunch with us! while heading to makan place with my this figurine, was so so paiseh cause i had nowhere to put but hold on my hand with my bulky laptop. and everyone is looking!!!
went around with dar0 for his work before going to his house after that. meanwhile, classes end at 12noon today, and it will be the same for every thursday. :D helped dar0 change his hundred plus plus baby fishes before slacking and watched Ip Man 1 !! cause i never watched before.

smelly dar0. lied to me say the Chen Zi Dan died!!
yeap anywayyy, thats all. HAHAHA.
am very very tired and wornout today and im wondering why my dar0 mia. hahahha.
gonna head to bed after that. :) tomorrow's friday and im gonna self proclaim a holiday.
cause first week i only had lectures and tomorrow's lecture only from 9~11am.
might as well stay home and sleep!!! pay for my sleep debt.
oh by the way, showed the figurine to my mum and she's so so intrigued.
and it feels like it just took her to realise i have a thing for art. damnnn.
well, at least her response is much better than me topping the class for results.

should i have known better i would have took up art in sec 3!!!