Curled my hair and Happy 6th Months!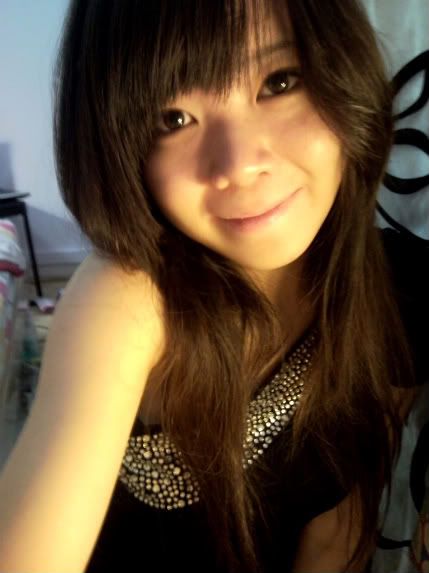 Have changed my blogskin! :) so many credits to
nuer
to let me refer to her codes ♥
well actually thought of alot of different kinds of blogskin.
but the templates i got from blogskins were so rid git and all were of different styles.
and locked up my blog this afternoon. cause there seems to be some error in preview.
anywayy, tried here and there and ended up with this :)
anyway, was facebooking / bloghopping just now and i came across this Liese Contest.
first 50 to submit videos using Liese Hairproducts (which they specified) will get to receive 80 bucks!! and submission for the video just started today / yesterday. means if i submit now i stand a good chance!
anyway, i saw they have this Liese Styling Gel which seemed really good, and off i went to buy it!
quite cheap actually, i think it cost me just $12+ for one bottle. (shall post the pic of the bottle again)
so was trying it with my hair and tried doing some video with the hair tutorial. i havent been using hair straighteners for a very long time as my hair is already straight lol! but yeap, i just used it to do soft waves.



side view.
actually the curling part was just anyhow. LOL.
was trying it out. need to get some hair nutrients spray!

anywayy, one of the T&C was that participants must be at least 18 years of age.
and im 18... by year not by date!! went to enquire and they say they'll get back to me.
hahaha. but chances are i doubt i can. cause i tried to sign up for it but the web say cannot lmao!

but i think the styling gel is good!

better than Liese Hairdye. LOL.






i look like a different person ley!

Okayy.. back to do my report. now im all on my own cause Joyce is in camp and Serene in BKK!
And my mistake, my dar0's wont be back until tmr and i wont be seeing him till Saturday..



Happy 6th Monversary my dear!



that's half a year for us. :)
cherished all the time spent with u ♥
Missing you like hell and could you faster get your ass back in sg.
the week after next when u're heading for sibu im so gonna post up half naked picts of you when u're not around.