A new hairdye!
My hair dye!!
had a hard time trying to capture the color in my camera cause it turns out a different color everytime!


met up with tingting with her friend at Tampines Interchange before heading to Simei ITE.
think they were having a practice session and their tutors asked them to get models for their hair dye practice!
there's lotsa people! and dar0 gave me a surprise by showing up at the hair studio!!
previous day he was watching soccer very late into the night and told me that he cant make it to accompany me. say he'll fetch me when im done. and all of a sudden he showed up!
hehehe. and he sat beside and accompany me for the whole 2hours ++ or so!
anyway, they were using Loreal Products. hehehe. and just nice i wanted a hair dye recently.
so might as well go. :D there was only a range of colors we could choose from,
so i anyhow picked one! was kinda afraid of the end color. like,
what if its too bright?
cause i wanted smth near to dark brown so it wont be too obvious when my roots grow out.
and im afraid if it'll turn out to be red base! hahaha. cause the other time when i dyed my hair, i overheard the hairdresser said red is a very weird color, cause after you dyed red, next time when u color your hair again, it wont turn out to be the color shown/ you want.
Anyway, i was pretty glad tingting was the one doing my hair. patient and careful!
cause the guy modeling beside me, abit of a catastrophe. oopsy daisy.
her teacher came over to examine after the results. said some was even some was not.
and tingting left out part of my fringe. LOL. the underlayers of my fringe! but luckily after she washed off for me, it turned out quite well!
the uneven part looks like i had some highlights. and my fringe is slightly darker. which i think is good cause again, it wont be so obvious when my roots grow out! and i no longer have gold hair HAHAHA. just that its slightly brighter from shoulders down.
cause my main objective to dye hair is to even out the colors on my head.
the first time i dyed my hair i colored it abit too light. and now its pretty hard to even it back!


these was taken after that!
:D many thanks to ting ting!
the color is actually very funny lor.
cause everytime i tried to take a pic, it turned out a different color.
i think this color is more of a red base! luckily its just a bit!
with sunlight and no sunlight.
i looked like i just bleached my hair to obtain that color or smth!
its actually quite dark ley.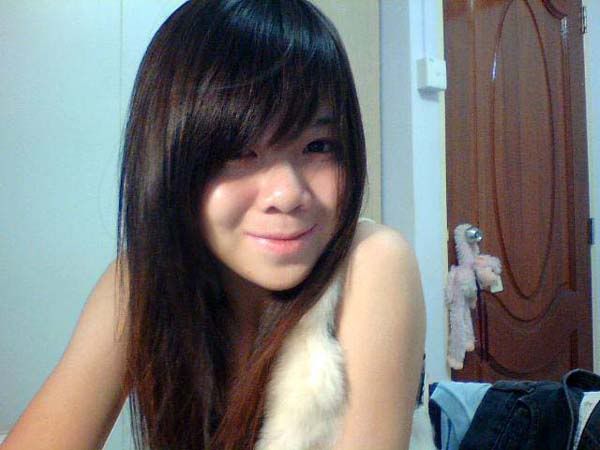 i tried to take using my webcam at home to capture the color but failed. LOL.
cause it doesnt portrays the color out. and it looks like the before-hair. hahaha


dar0 came to fetch me after lecture yesterday!
you can see my fringe is slightly darker.
very funny one lor. i show you what i mean by different colors each time i take.


this one looks like as if i bleached my hair.


this one looks like as if i have light brown / more to yellowish brown that type!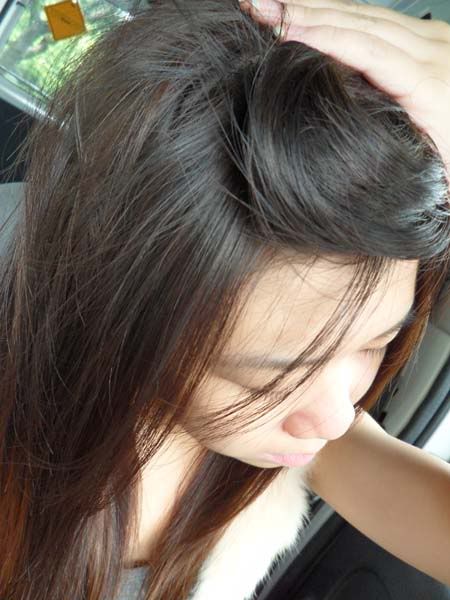 and this looks black. HAHAHAHA.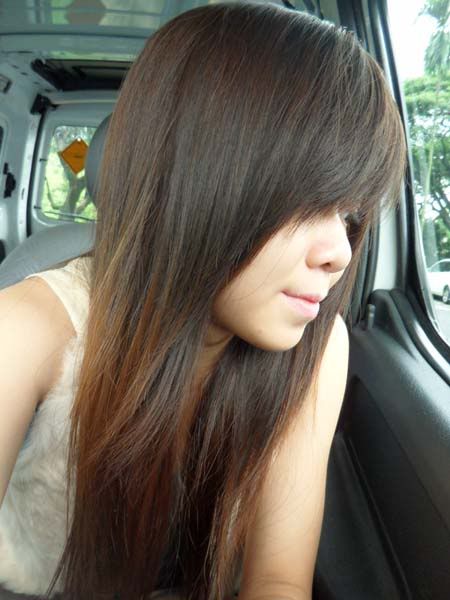 yea and full shot.
you can see its slightly brighter from shoulders down onwards.
cause that was when i dyed it lighter early last year!


what do you think??