Helix Bridge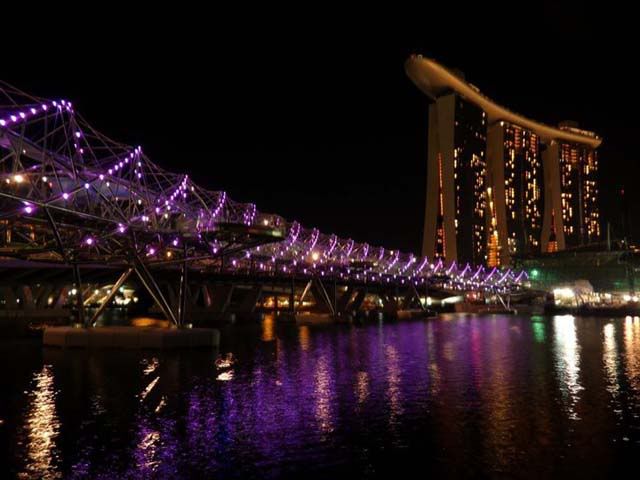 Helix Bridge with Love!!
yea my love! ♥
hehehe. ok ended up its a date between dar0 and I!
was contemplating to go Helix Bridge or Clarkequay and i decided Helix bridge!
and we tabao-ed Macs and sat beside the floating platform and eat in comfort!!
not much people at the place we sat down to eat. hehe! long time since i ate McD too.
helix bridge was in a pretty violet color. and with the reflection in the sea, the sea turns violet in color too. so pretty! but there's still abit of contruction going on .. beside the white stucture. LOL. doesnt looks great and hence i shall not upload picts of it hahaha.
and dar0 was trying out the angles to put our cameras for self shot!
became his model hahaha
and i dont look like me here!! dont know why.
no matter how i adjust the lighting / contrast still cmi.
but my dar0 looks thumbs up!! sometimes im mad jealous of his sharp nose. damnittt.
and they have this kind of random alphabets on the ground!!
with and without flash~
the entrance!
and can you spot teokejun. hahahaha.
was trying out the night mode with slow shutter or smth, he was walking past but only manage to capture him at one spot. hahaha.
with night mode!!
so pretty and nice. hahaha ok i know its the umpteen times im repeating the words but still..
yea and with flash and without! ♥
once in a while when you head back to marina, it seems like alot of new buildings suddenly grew out from the ground lor!!
yea and while the pic was being taken, someone knew what i wanted to do and siam-ed!
hahahahaha. s you!!
:P look at his blissful face hehehe!
yea and nothing much,, just sightseeing and taking pictures!! all these taken while walking back :)
and one last pic of helix bridge!!
both me and dar0's first time heading there.. :D
had a great day with him hehehe. and after that dar0 came over and stayed at my home!
exams are over and hence i didnt need to worry about studying hahah.
just watched Love on xinmsn throughout the night!
like shiokk only!!
♥♥♥