Japer's Birthday Party
Japer's birthday party in advance on a saturday night!!

actually got ready earlier and was taking some pictures for the ClubCouture bag (yes i won it! muackies to all of you!) as i intend to blog about that in my next post!

pictures shall do the talking!!!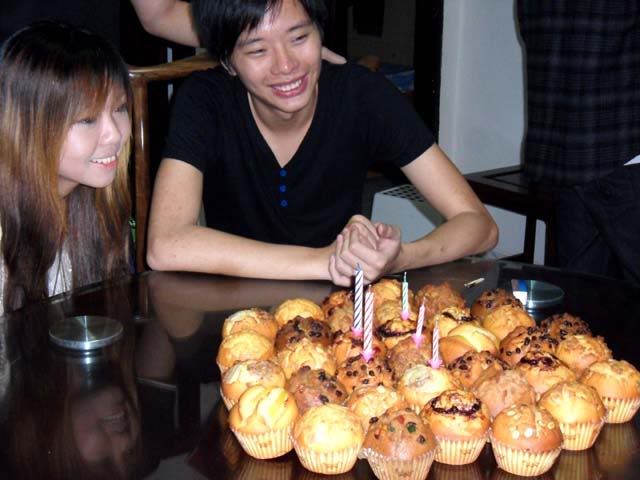 see they look like some stars and this pict kind of portrays a paparazzi feeling? LOL.
reading too much books related to that!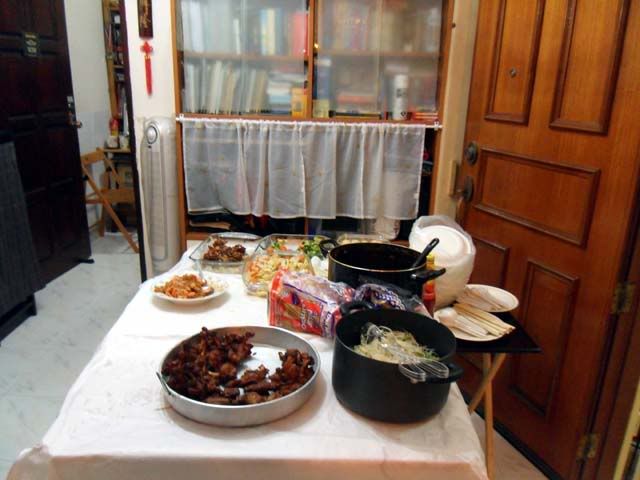 anyway, there was quite alot of food!!
this was the amount left when i got out halfway from the room to take a picture.




yea i think this is me.

and i think i was scratching the corner of my lips LOLL.
ate something wrong and i dont know, allergy or something?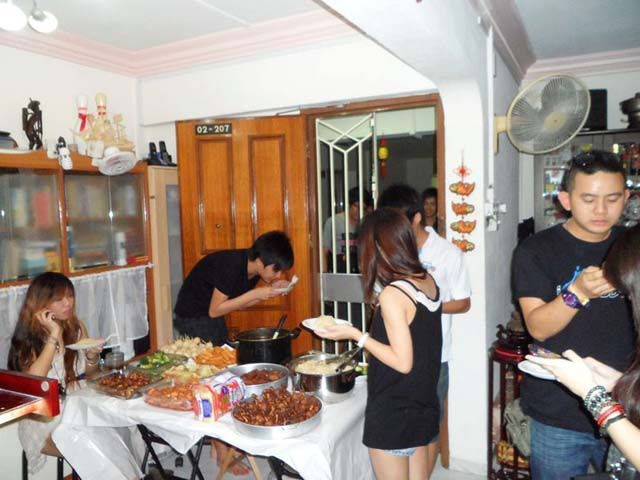 I LOOK SO SMALL SIZE !!!!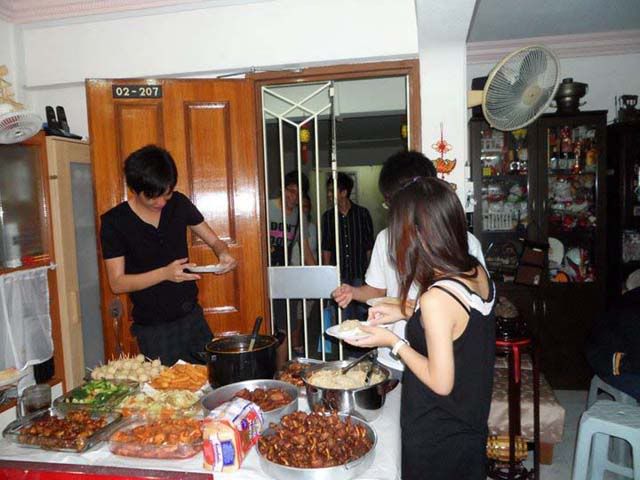 and LOOK AT THIS PICTURE.

i had my doubts as to why i was tagged in this picture on facebook.
cause i didnt knew my hair was that chestnut brown. kept thinking should be another person.
then i scrutinised the shirt... ITS MEEEEEEE.

seriously i didnt know my hair was that bright. i thought i opted for dark brown.
and Loreal hair product is......... mystifying!!

different lights and angles different colors!!

ok la back to topic

most of the time we were in this devil's room. hahahah.
and you can see jeston in the background trying to chat up with some girl on msn / sms / trying to stalk her only HAHAHAH.




blurry picts follows... cause was too crowded and i had to take my chances to SNAP before someone walks past. yes i zoomed in so that compromised the quality abit!



of so many cameras snapping away, nat somehow always knew i was GOING TO take a picture, AND SHE WOULD LOOK INTO MY CAMERA LENS. hahahah!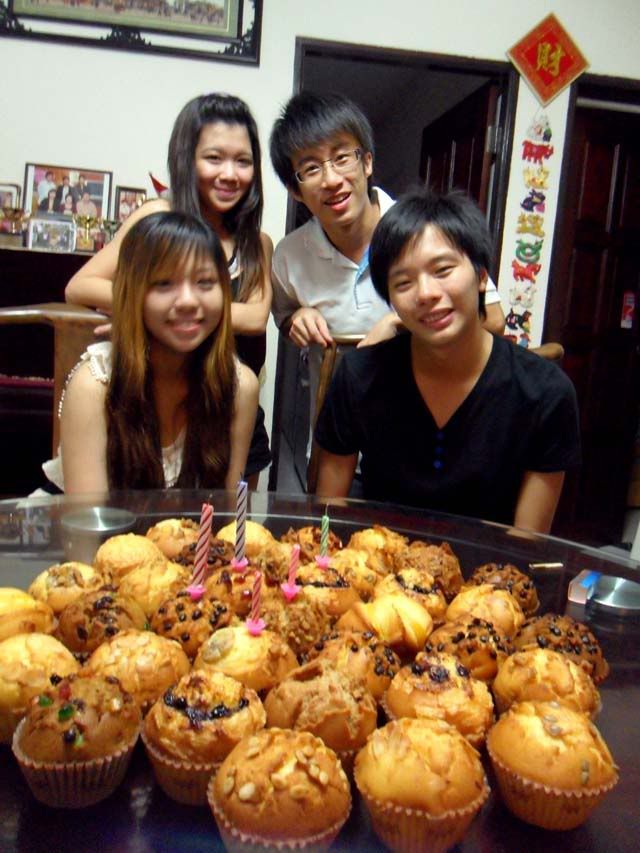 yea group shots.

and his birthday cake made up of muffins!!! so interesting.




and this was when we were at the balcony waiting for @sharlyn to drive @eugene there!
didnt stayed too long, went off around 11pm!

dar0 fetched @eugene to his house before he came over my house to stay!



and speaking of that, dar0 is so sweet! he came over to sleep on saturday night after Japer's birthday party. Supposedly he was going home to sleep the following night, hence we just stayed at my house and accompanied me in the noon first!

we watched Easy A at home. haha! i know its just out in the cinemas! quite nice.. but would recommend you to watch at home. yeaa and at night we cooked spaghetti to eat! i love cooking my own spaghetti. cause i can put in my own ingredients.

if im the only one eating, i dont mind putting JUST button mushrooms!!!

and by then its already 9plus P.M. and dar0 went off together with my bro (who was fetching joanne home) so he would fetch my bro back to our house again, before he went back to burnfoot. and he suddenly appeared back at home with my brother! (!!!)

he said it was late already, might as well he stayed here and accompany me again. and he could send me to school tomorrow morning! (and he would go home after that). so sweet of him.
and today he sent me to schoool. since my lesson was a two-hour period only and he had to do some work in the area, he dropped me off and said HE'LL WAIT FOR MY LESSON TO END LATER. then he'll pick me up!!! hehehe so happy.

and it rained cats and dogs when my lesson ended. and he accompanied me to print my notes and all that, before bringing me to lunch at northpoint! ohhhhh and BLACKPEPPER CHICKEN is nice! shopped around for my mum's present and was contemplating between a CD-Radio player or a Microwave. end up getting the microwave (i finally has one!) cause our house is in need of it. but i dont know how my mum would react. seriously. cause she believes eating microwaved food gives you cancer. -__-


----------------------------------------------------------------------


oh and speaking of school, I FREAKING DISLIKE TUTORS WHO HAS NO TIME MANAGEMENT. been keeping this inside my whole brain the moment class went over-time.

as you know NP with the no-late-for-1-min rule, its stated that in turn, class WILL end 15minutes earlier to make up for our time to get to our next class ON.TIME. ok, understandable.

but my freaking tutor knew that since we have no classes after that (its lunch period 1hour only), she freaking dragged the whole class. by how long? HALF-AN-HOUR. i am just soooooooooo close to scolding vulgarities with a gesture!!!
class ended 1.15pm!! wahlaos!! where to complain? none, cause school still feels its for our own good. its as good as telling us "IN YOUR FACE AND EAT IT UP". seriously, i dont like people with no time management!!!

if you are relax with the time, you drag, i am ok. since you are not so itty bitty with the details so i shall not too. BUT, when you are itty bitty with details like ONE-MINUTE, i get very pissed off when your time management fails by a freaking half an hour.


what to do? yea in my face and eat it up. SO ANGSTY LA.
on a better note, ending with my Samsung super-pro-zilian-camera!!!

muackzzzzzz