AD: Bio-Essence BB Cream Series
Have you ever wondered how those celebrities you've seen everywhere seems to have perfectly flawless skin? Have you ever wondered where and how those Japanese girls got their flawless skin from?
well, i dont really have their perfect recipe for their perfect skin, but i have one very good product which i'll be recommending, for your skin to look flawless too!
im actually quite skeptical when it comes to cosmetic products, especially stuffs foundations and creams. because when i read their advertisement and reviews everywhere, most of them stated stuffs like "it lasts the whole day!" "not oily at all!" "it stays on my face and i dont even break out into sweat!"
and when i tried their product, bullshit. how can your face not regulate oil secretions? how do you not even break out into sweat in this hot oven we're in everyday. well, unless you're in an air-conditioned room everyday. but what im trying to say is that, i am not very trusting when i read those reviews. Hence i am going to be very objective in my review today!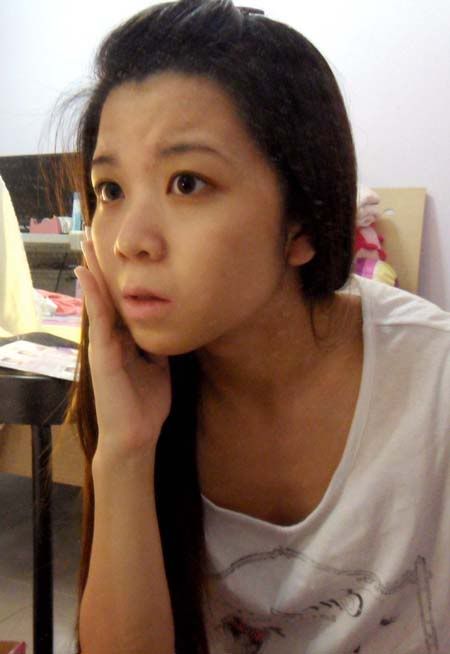 so back to the topic of flawless skin, when i see those cover magazines of Japan girls with their flawless skin, i look into the mirror for myself. and then i'll start thinking "how can their face not have any pores or pimples or uneven contrast?!" then being jealous of their skin, i'll start thinking that their face is PHOTOSHOP-ED.
and then perhaps their skin is like mine too. it's a process of making our own self feel better!! Don't tell me you have never ever thought of this way before, cause you yourself know that deep somewhere in your heart, YOU WERE LIKE ME TOO!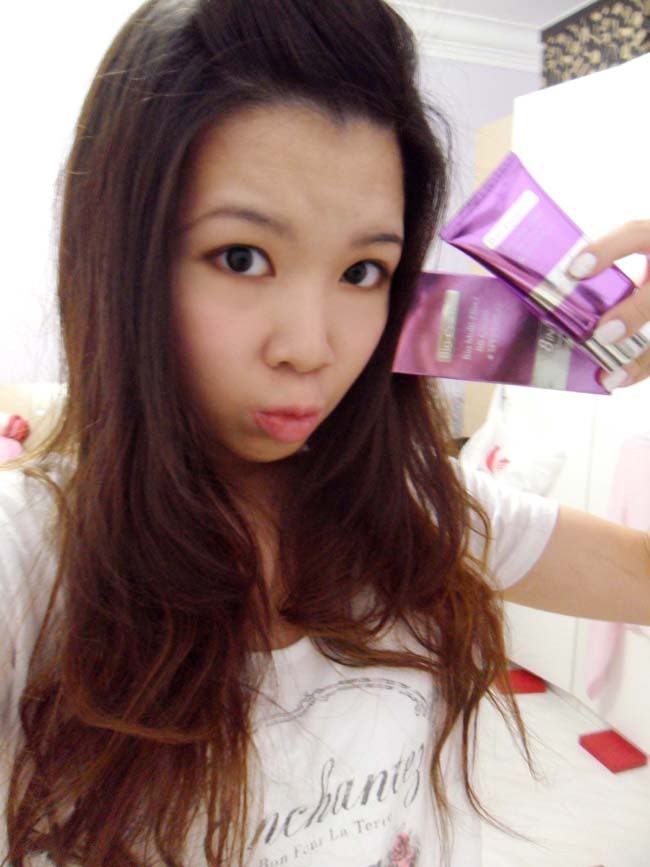 and i am going to recommend you your savior!!
Bio Essence BB Cream Series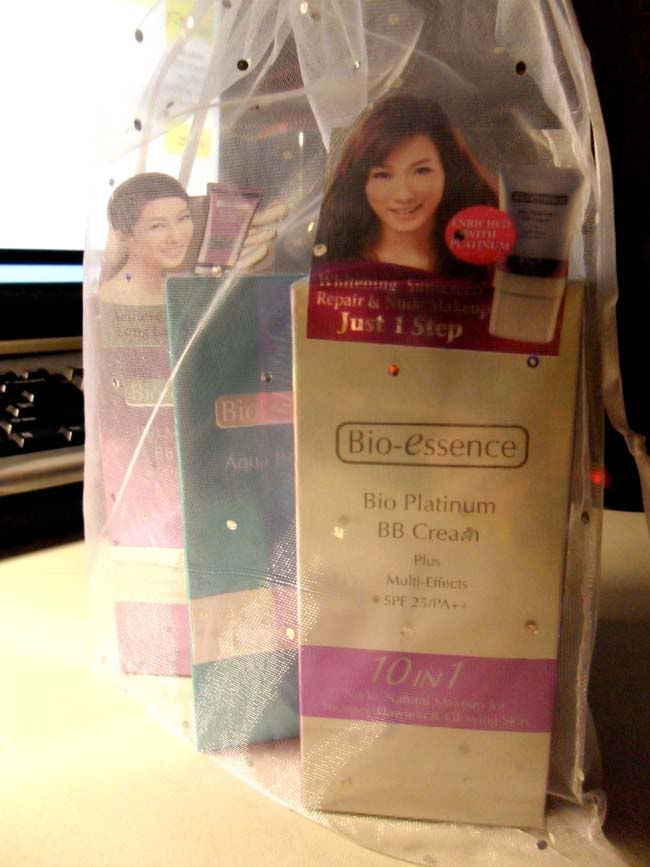 Their packaging is so shiny and it even comes with a translucent bag.
I've already feel so pretty!
Before these products were sent to me, i usually ask what's the big deal about BB cream? i had always thought they were just another type of liquid foundation with an added advantage of sun-block! I've already have my own liquid foundation so it didnt cross my mind to splurge an additional amount on BB Cream, after all there isnt much a difference. talk about ignorance...
So.. What is BB Cream?
BB Crea
ms (aka Blemish Balm Cream) originated from Germany and was initially prescribed by dermatologists to patients who had undergone laser skin treatments to soothe redness and cater to their sensitive skin. The trend then caught on in Korea when celebrities started using them to create a natural and dewy finish. (SEE, THEY HAVE THEIR SECRET RECIPE I TOLD YOU!)
.
BB Cream – A Multi-Efficacy Wonder Cream
Whitening, Sunscreen, Repair & Make up in 1 Step!
Opinions are varied over whether BB Cream is a skincare product or a makeup item. Actually it is both. BB Creams have multiple skincare benefits which include whitening, sun protection, reduction of fine lines and wrinkles, moisturizing while providing coverage for the skin. It gives a natural and flawless finish, similar to how Korean celebrities look.
SINCE WHEN BB CREAM HAD SO MANY USES ?!
and even in Hong Kong beauty magazine "Fashion And Beauty", they rated and compared few of the best BB Creams in terms of oiliness, spread, coverage and feeling on the skin. And Bio-Essence 8-in-1 Coverage BB cream ranked 1st!! (its the one in purple!)
and i will be introducing this product in this blog post!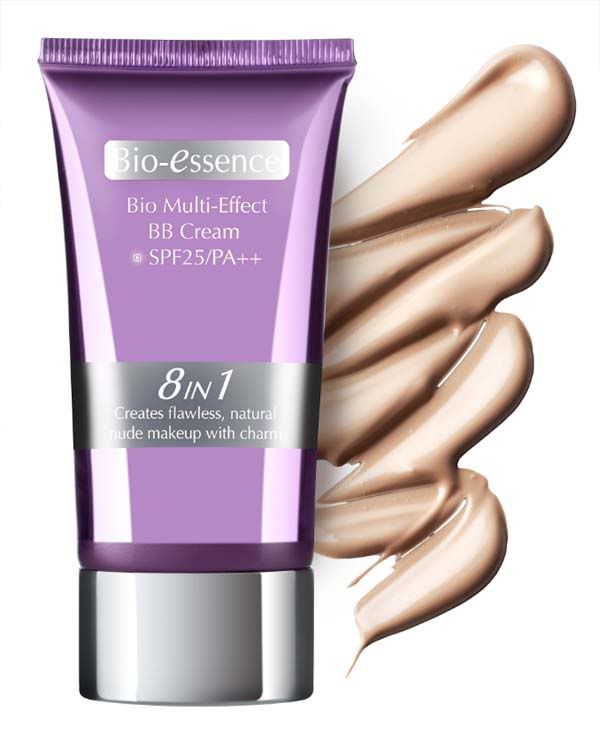 this BB Cream has the strongest coverage out of the 3 bb creams.
and by mentioning coverage it means flawless skin.
and before you start doubting my words thinking that you have incredibly big pores and pockmarks as that of an orange peel.. i am going to prove you wrong!
Bio-Essence is that confident of their product, and they had even sent an orange along with their products!
but i kept procrastinating about the orange part, hence it grew moldy LOL.
yeap and this is another orange i got it from my fridge.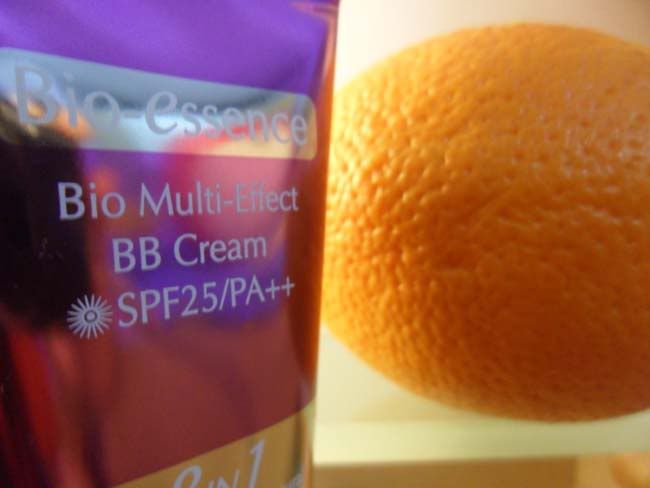 even i myself, is very interested to see whats the outcome!
1. you drip a small amount
i dont wanna waste this good stuff on the orange so i'm doing it sparingly haha!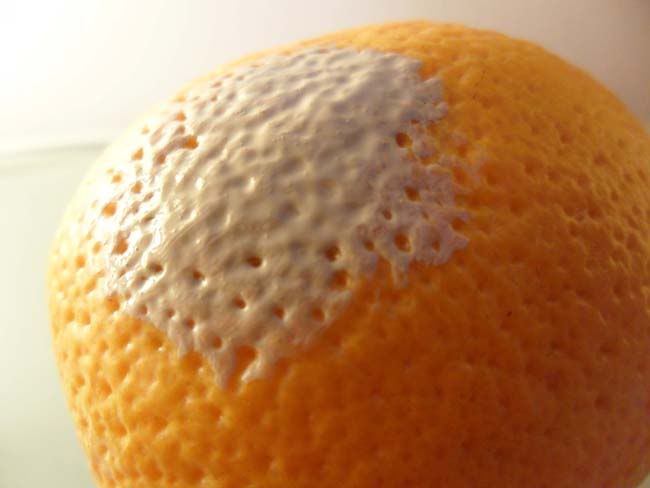 2. you spread...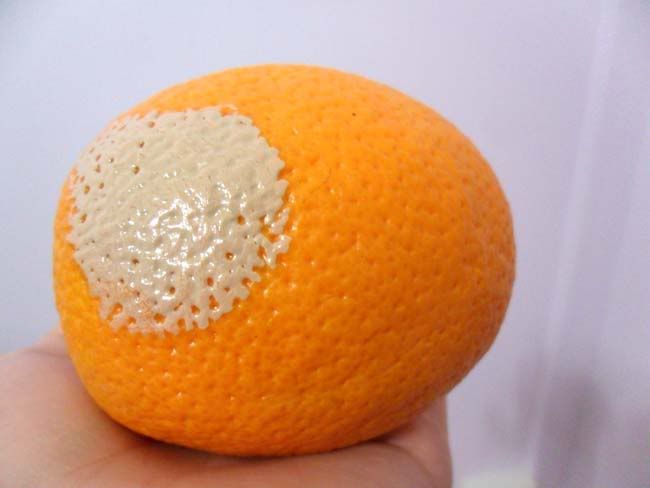 3. AND THE OUTCOME!!
i cross my heart that i did not purposely leave big amounts of bb creams in the pores to make them look like they are non existent. and the small amount i used could cover quite a big spread!
AND THE PORES ARE ALL COVERED!!
perhaps its because of the contrast of the orange peel, it doesnt looks very good.
cause the pores looks clogged. but dont worry i will explain that later!
i'll show you the correct way of applying it on your face!
this is one of the brochures you can easily get it at any Watsons Store!
1. Squeeze an adequate amount on your hand.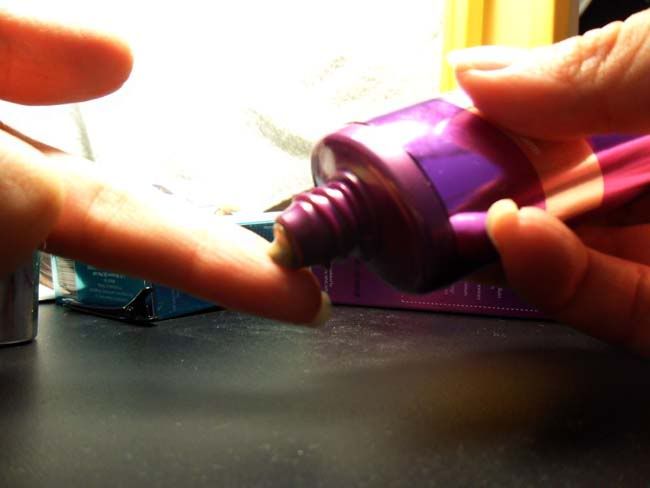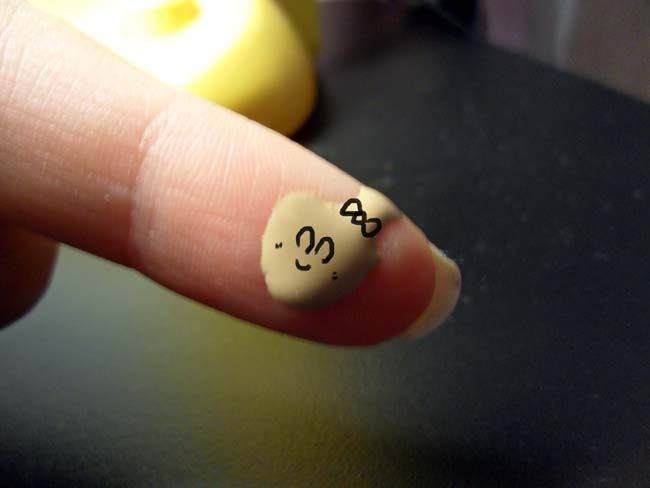 All filled with goodness!
and you dab it on your face,
and lightly pat it to spread!!
you could see my uneven skin tones and some redness at the pimples near my brow.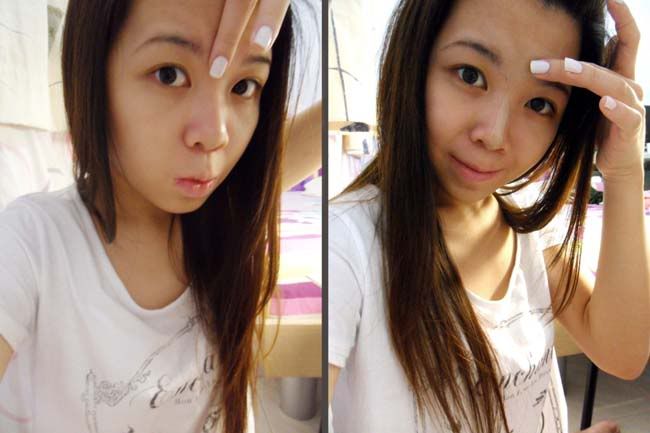 i am using it as a foundation so im spreading it everywhere!!
girls, remember your T-Zone is VERY important!!
it highlights your features and nose bridge!
and of course, your nose would be the most prominent feature on your face,
and you wont want people to notice your blackheads.
and spread it across your cheek in this direction!!
by spreading your foundation across your face like this, it gives your cheek / face a natural glow.
i have accidentally switched on the flash mode, and i thought it shows the part which i had applied and not!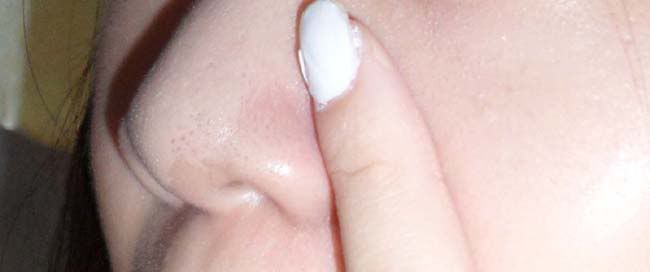 look at the coverage!! all my pores covered!
i've just applied on my T-zone, so you could see the difference.
also, it reduces the redness on the side of your nose. its like a concealer!
i cross my heart that it is not photoshopped!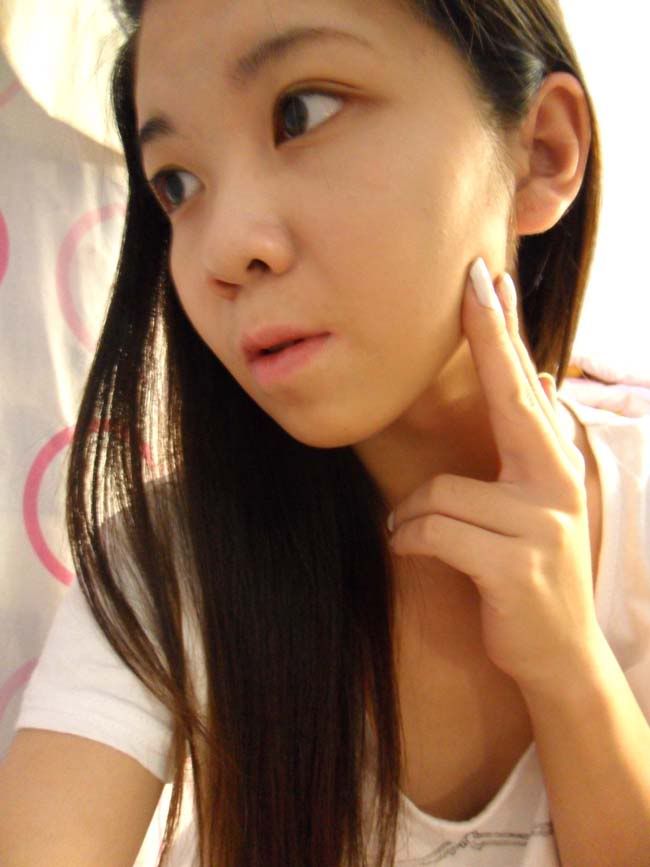 also, you do not want your face to have a different tone from your neck,
so remember to apply them on your chin and neck!
and this is highly embarrasing. my naked face with no foundation / anything at all.
THE BEFORE & AFTER PHOTOS!!
BEFORE: you could see my uneven skin tone, redness from the side of the nose, horrible red pimples on my forehead.
AFTER: applying the 8-in-1 BB Cream for coverage, my skin looks smooth with a dewy and natural finish. no uneven skin tone!!
i cross my heart that i have done no photoshopping to cover the pores / pimples!
-------------------------------------------------------------
And before you think that what's so good about having all this BB Cream covering your pores, making them clog up and resulting in an worse case of blackheads and pimples,
BANISH THE THOUGHT!! ITS ALL INGREDIENTS IN YOUR PORES! they help to repair and protect your skin. :)
Ingredients: Uniquely blended with Bio Energy Fluid, Pollen extracts, Titanium Dioxide, Ginkgo Biloba, Ginseng and Angelica: they nourish skin while providing superior protection against sun's rays.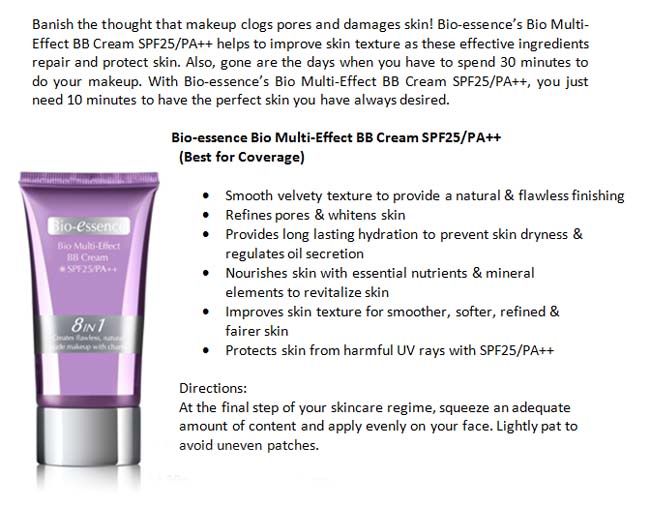 Its light and smooth texture creates a natural flawless finish that does not need any touching up.
YES, it is true about the part that you do not need any more blotting and touch up. I decided to try out this product first as i do not have the time to read more/do the reviewing yet. Hence i'll do a road test.
So i was at bugis street the other day. you girls should know how hot of an oven bugis street is. AND I DO SWEAT. i mean, there's still oil off my face. i thought the bb cream would also come off with the wiping of sweat / oil control paper. but no, the coverage on my face is still there when i finally found a mirror. blotting definitely unneeded!
and with pretty skin, it gives you even more reasons to camwhore!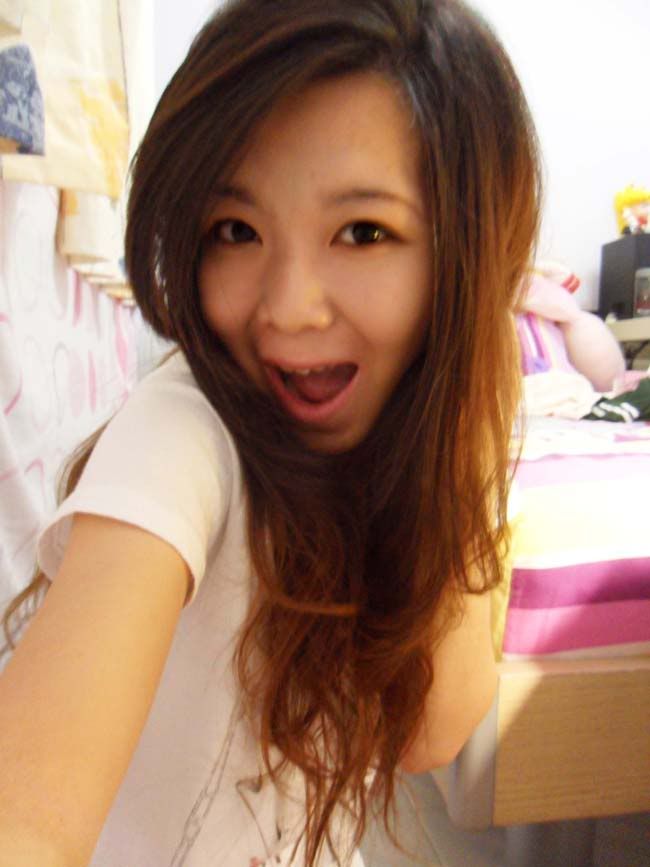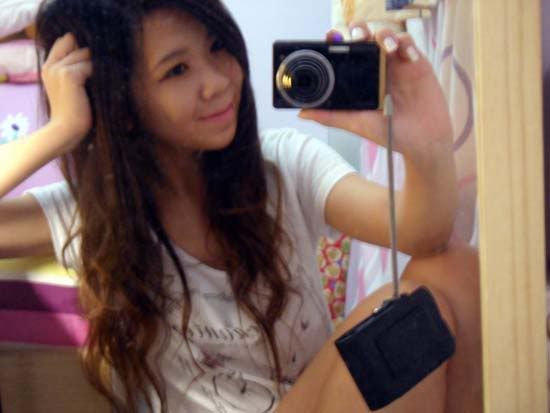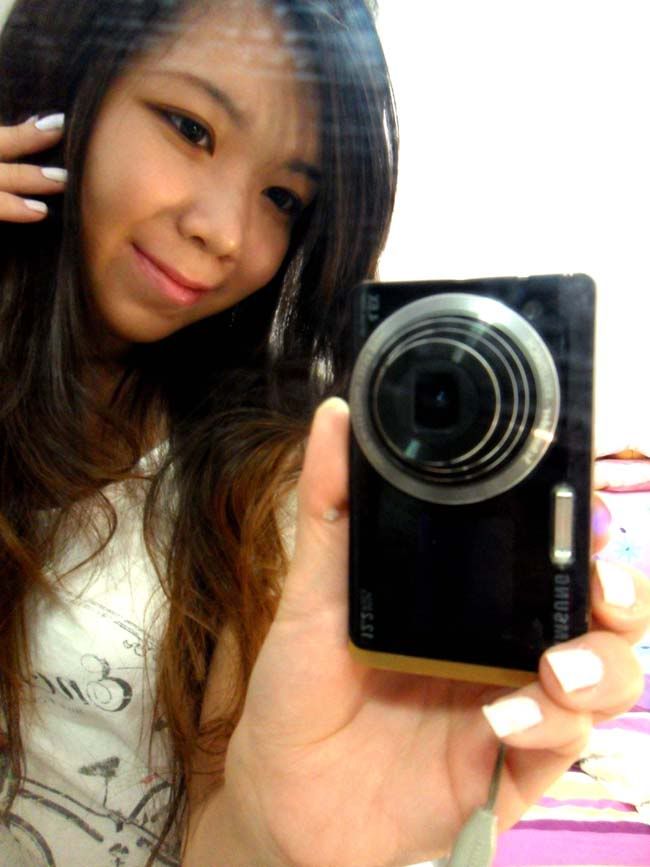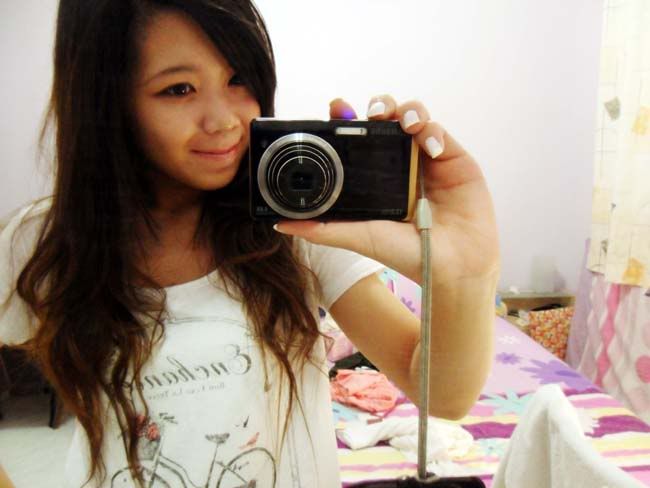 im a convert now!!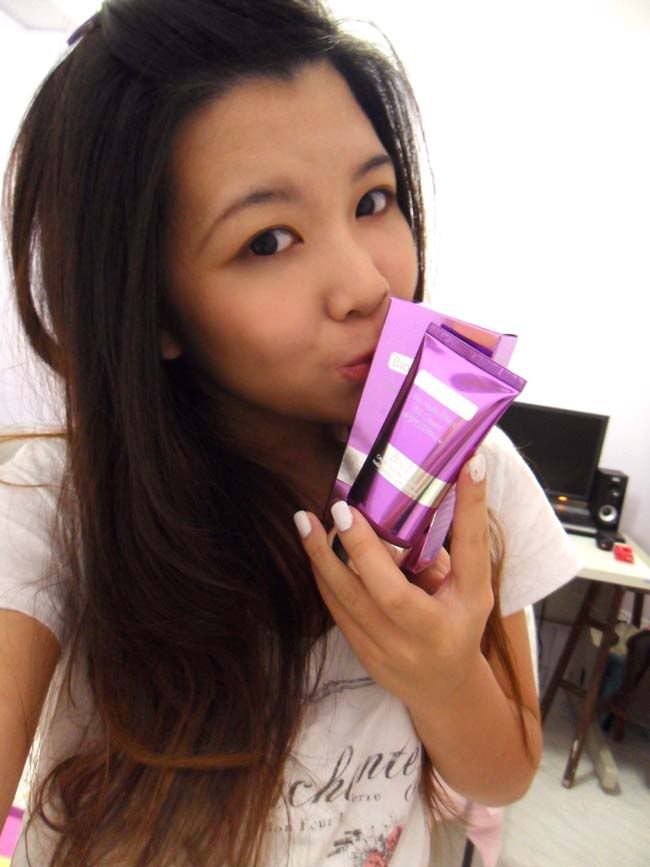 i am definitely loving my BB cream!
And guess what, the price is very affordable! for the bottle of my size, it is just at $28 at many places and not just major drugstores. Places like Watsons, Guardian, Robinsons, John Little, BHG, OG, NTUC FairPrice, Carrefour, Giant, CK Departmental stores and other leading cosmetic houses!
Think about it.. compared to getting liquid foundation, concealer, loose powder, they'll end up costing more! Moreover, this BB Cream has 8-in-1 benefits, and it's just at $28 per bottle!
however if you're still not sure about this product, stay around my blog for a few more days! I'll be posting up a widget where all my readers would be getting samples for free!!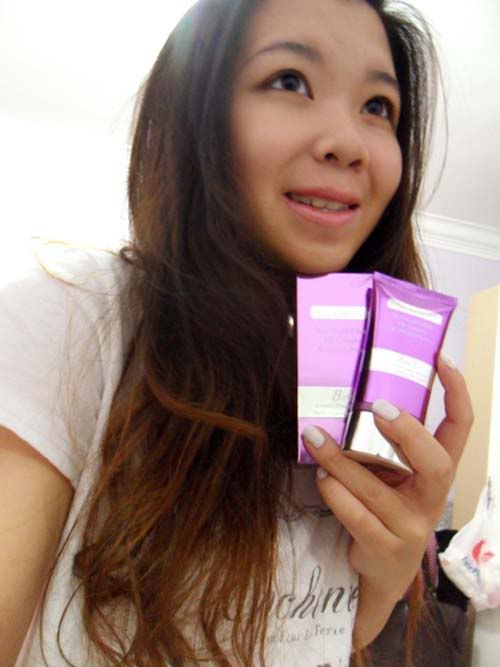 (L) Bio Essence!
However, BB Cream isn't a one-type-fits-all. Something i've learnt!
Some people may find it too oily, unsuitable for their skin, too dry, and so on,
there's always a unique BB Cream catered for all of us, and you just have to keep on trying!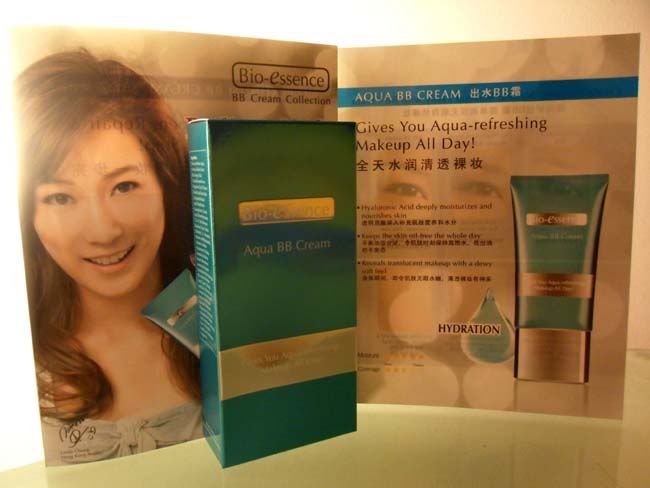 There is also this New Bio-Essence Aqua BB Cream for Aqua-refreshing Makeup all day!
And by Aqua refreshing, it means making your skin stay hydrated all day!
You can feel it from the BB cream itself already! its much more... (liquid) and it could easily be applied across the face. Coverage would be 2.5 stars out of 5, but it has the best Hydration effect among the 3 bb creams!
i've tried this product, the 8-in-1 Multi effect BB Cream (purple one) offers a very good coverage. While this does not offer that, my skin feels less oily! Gives a very... sheer and cooling feeling!
like all of us do, i dont really like the feeling of having make up on my skin. Somehow this product gives a very 'light' feeling! Go for this if you want something cooling and refreshing! Here are more reasons you should give this product a try too!
And this is the new star product among the BB Cream Series!!
The Bio Platinum BB Cream!! its 10-in-1 !!
even better than the purple one which i've recommended!
this is the BEST for WHITENING!
here are just SOME of the reasons why:
Of course, it also has the sunblock function of SPF 25.
But this includes Tanaka Extract!!
you'll see many whitening products which has tanaka extract in them. and this is no exception too! if you're one that goes after Whitening Product, this is the one you should get!!
Other than the above few benefits which i've mentioned, there are a lot more!
I'll be coming up with a blog post for this Platinum BB Cream, so stay around awhile more!
Besides, if you're doubtful about how great this product is,
YOU, my reader would get to redeem sample products for the BB Creams for free!!
so you could try out the samples and get hooked! muahahaha.
i'll be posting the widget alongside, just stay around!!
(L)