AD: Bio-Essence Platinum BB Cream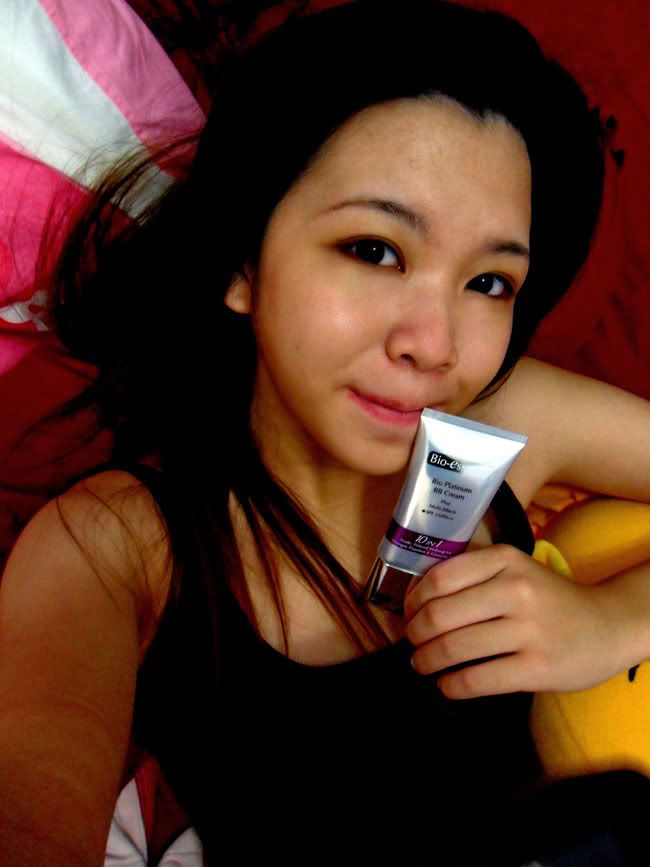 Hi girls! As promised in my previous review for the Multi Effect BB Cream (the one in purple bottle), here is the review for the Platinum BB Cream!
And you, my reader would be getting samples for BOTH BB creams, for free!
Just keep on reading!
I usually think that skincare isn't important for me, yet.
Because Im still eighteen! Still young! our skin regenerates very fast and repairs itself too.
Hence i felt that skincare isn't something important for me, wait till Im in my twenties!
hahaha.
BUT, no harm starting early right?!
what i'll be talking about in this review would be about whitening and anti-ageing!
although my friends said im relatively very fair in terms of complexion, i still can't help but think other wise! I dont know, is it a bad habit?
i have dark eye circles..
uneven complexion..
Aiyah, the list goes on!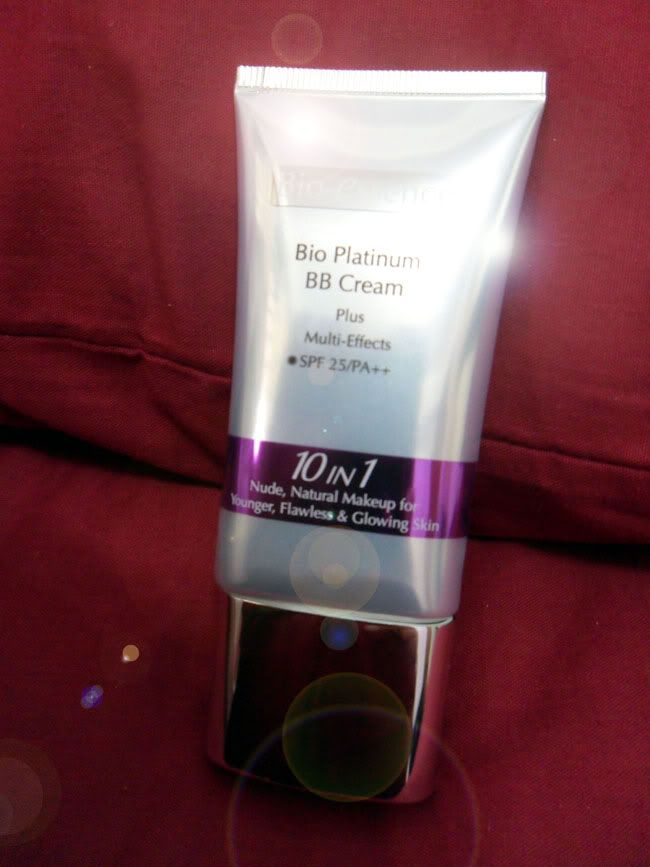 Bio-Essence then introduced me the Platinum BB Cream for my skincare regime!
Actually to be truthful, i dont really have any skincare regime. More than often I cant be bothered! Cause I am just too lazy to find out which are the various important creams, which to apply first, what I should to do and so on. Plus, they are usually costly too!
So.... this Platinum BB Cream is like god-sent to me.
Its like, one time application and you're done!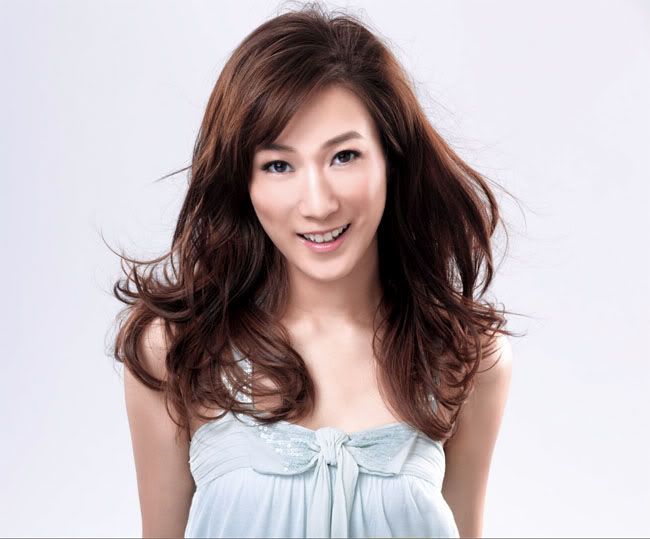 If im not wrong, the HongKong actress Linda Chung is their product endorser!
( Let me know if i'm wrong k! I'll change it promptly )
yes it's this Platinum BB Cream which i've mentioned in my previous review.
i am going to tell you more in a bit!!
"I have powder foundations, and i think BB Cream is unnecessary"
I am going to show you why BB cream has won over my heart. Since my digital camera isnt very good to take certain shots, i'll use this model's one!
we have the bare-and-no-makeup-face, completely nude.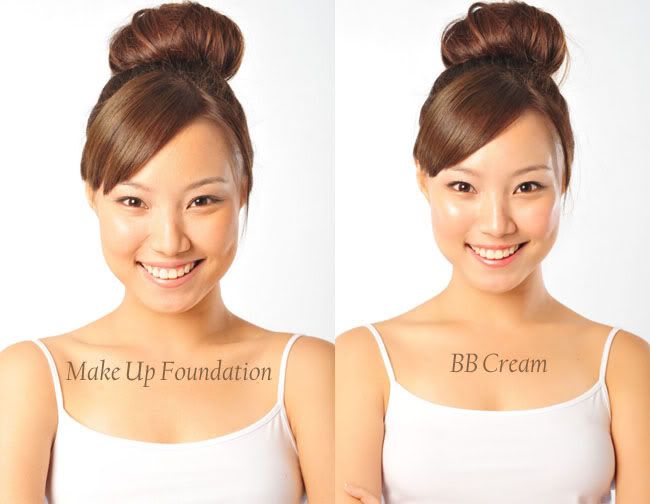 and THIS, is the difference between traditional make-up foundation and BB Cream.
Because traditional base makeup requires the user to wear different layers of makeup (sunscreen, moisturizer, foundation, concealer, loose powder etc), hence the resulting coverage appears less natural and cakey compared to the BB Cream, where only 1 product is needed to conceal, whiten, sunscreen and base makeup. It saves time too!
Early in the morning when preparing to go out, I would not have to fuss and think about which to apply first. Just grab the bottle and its like a complete package included.
I believe the Whitening effect would take some time before there's results, so there is no way i could rave about how much it had lightened my skin tone within such a short period! But still, BB cream works wonders on helping you achieve a radiant finish.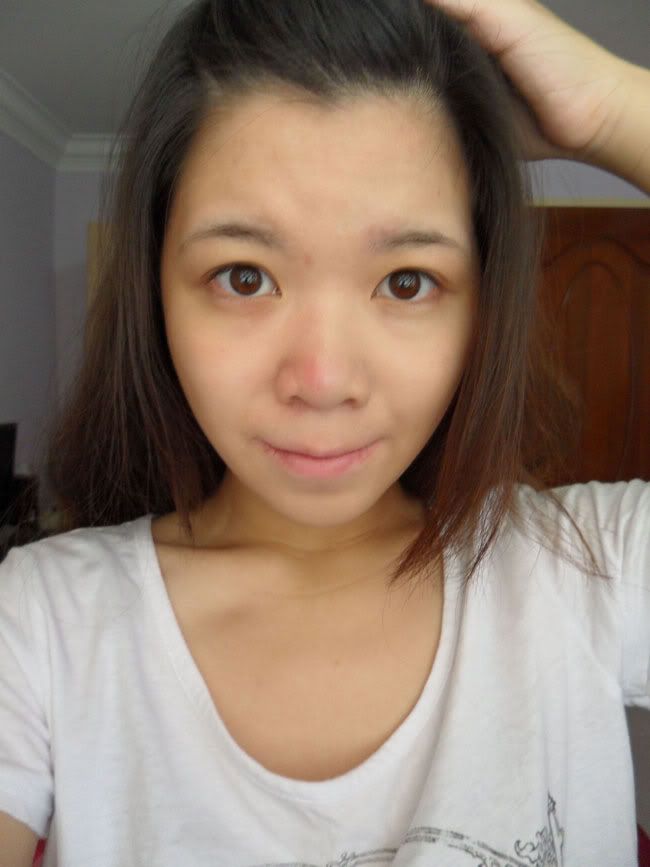 Can you spot which side of my face has the BB cream on?! hahaha.
i think it should be quite obvious.
Again, i cross my heart that no photo-shopping is done on the skin tone / complexion!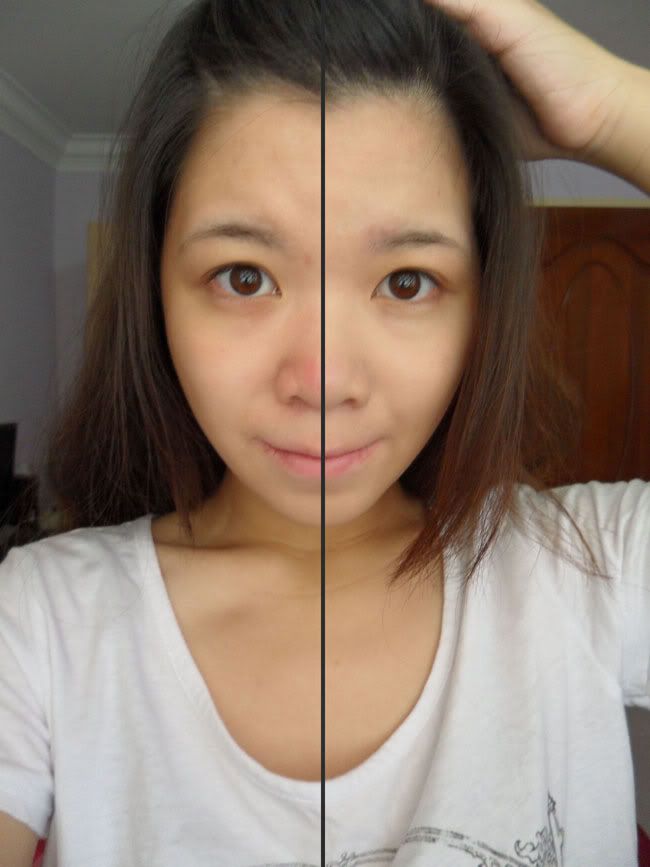 drew a line! should be able to help with the comparing :)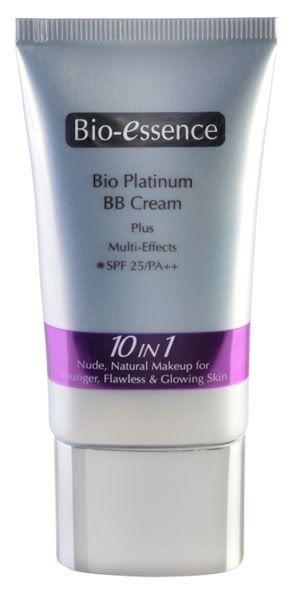 Raving about how good the product is, i know i have yet to tell you what are the exact 10 benefits! hahaha. here we go!
10 in 1 Multiple Efficacies:
Revitalizes skin with platinum


Platinum is one of the rarest and most precious metals on earth, where it helps to nourish skin and protect complexion against free radical damage. Platinum also makes your skin more radiant and lightens fine lines and wrinkles.



Whitening and skin brightening


Contains Tanaka White Extract which has excellent natural whitening and moisturizing effects. It also keeps the skin cool under hot sun and protects it against melanin buildup and pigmentation for a fairer complexion.



Fades pigmentation and spots


If you do not know, Asian's skin are more susceptible to melanin buildup under the sun, and that's where freckles come from! I actually have some on my cheek now. But i think its quite cute haha!



Repairs and soothes skin


The Tanaka Extract also provides moisturizing effects. By repairing and soothing your skin, you're on your way to flawless skin already!



Conceals and fades blemishes


Did i mention BB creams are also great alternatives to concealers?



SPF25 PA/ ++ UV protection


The basic attributes of BB Creams! girls, you WILL need this!! you wont want to end up with freckles all over your face. Seriously, the sun is getting so horrible.


Nourishes and hydrates skin





Strong anti-oxidation properties to reduce fine lines & wrinkles


Skin care!! It's like an anti-ageing BB cream for you too. Because wrinkles are the first tell tale sign that your skin is ageing!



Creates a bright, healthy skin tone for radiant natural looking makeup


I support this!! For testimonial, refer back to the before and after picture of me again!



Effective oil control for the whole day


I would not say your skin would be completely oil free, since we all know of the vicious sun and heat we're all under these few days. But no doubt, it helps to regulate them!
In case you're lazy to go through the list, you could also refer to their advertisement!
and for me, i have definitely found my friend!!
i believe that my powder foundation is going to sit, rot then become obselete in my drawer. hahaha.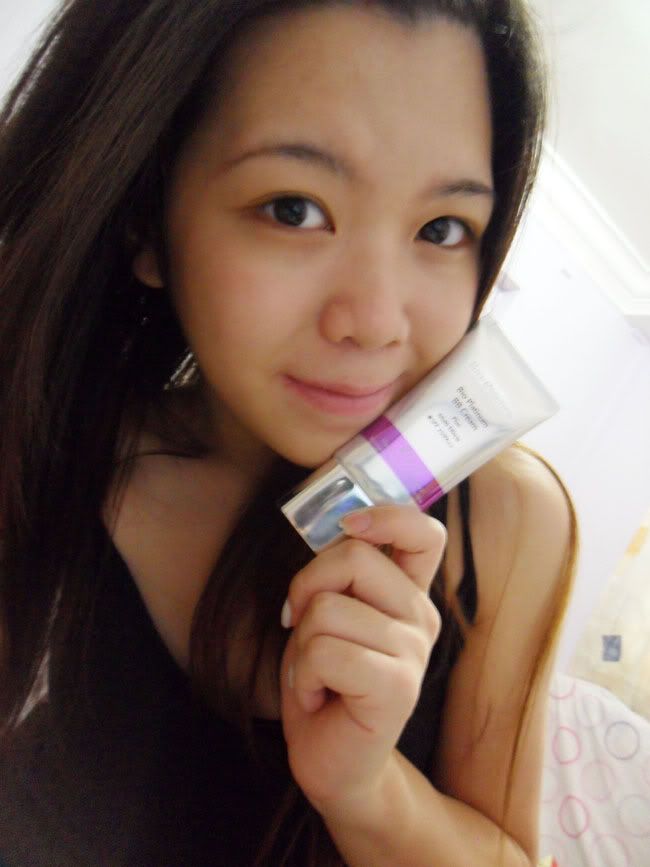 Im am very much in love with the radiant and natural looking finish!!
hehe, make me grow fairer too!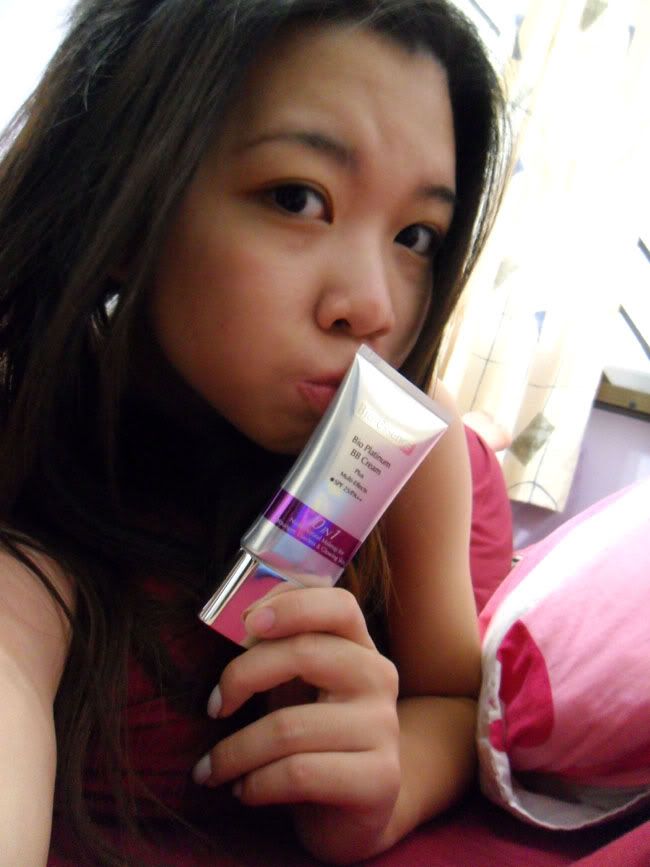 XOXO!
And i shall proceed with narcissistic shots of me the BB Cream!
(I secretly enjoy using the excuse of the BB cream to take more self shots)
LOL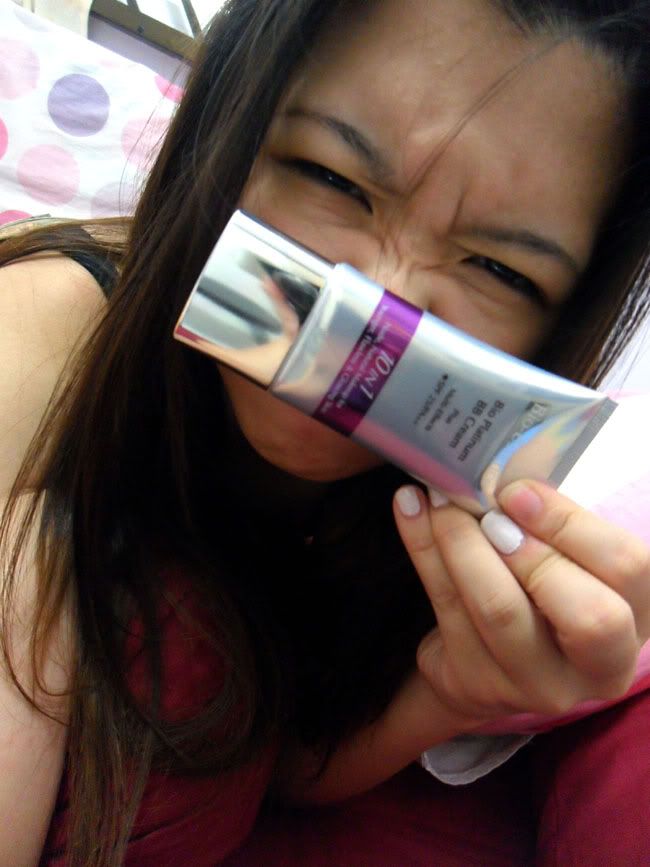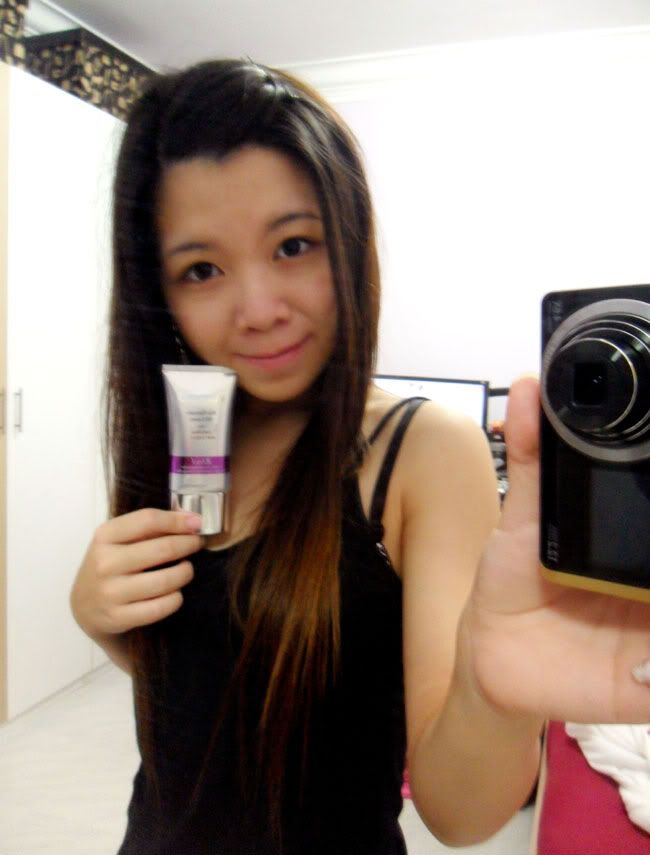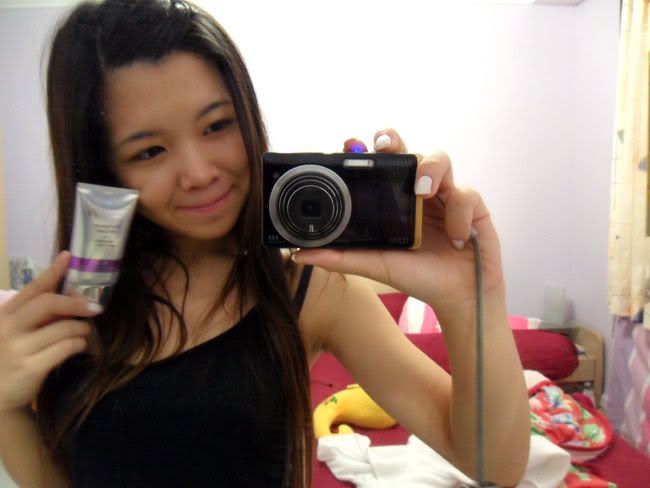 Its available at $32 for this bottle of my size, available at Watsons, Guardian, Robinsons, John Little, BHG, OG, NTUC FairPrice, Carrefour, Giant, C K Department Store and other leading cosmetic houses.
Again, my words alone can never be persuasive enough! But I would really recommend you girls to get one for yourself. But before getting them, try out the Samples!! (and get hooked on the experience!)
As BB creams is not a one-type-fit all, so why not just grab the samples and see which one you'd prefer! its free and you wont have to regret buying a wrong bottle!
If you do not have an account with Sample Store, it does not take more than a minute to sign up!


The sample pack includes samples for BOTH of the BB Creams which i've reviewed for free!
The Multi-Effect BB Cream and Platinum BB Cream!
I am not sure when it will run out of stock for samples, just grab them today :)
Besides, they are also letting you, have a chance to win a Bio-Essence product!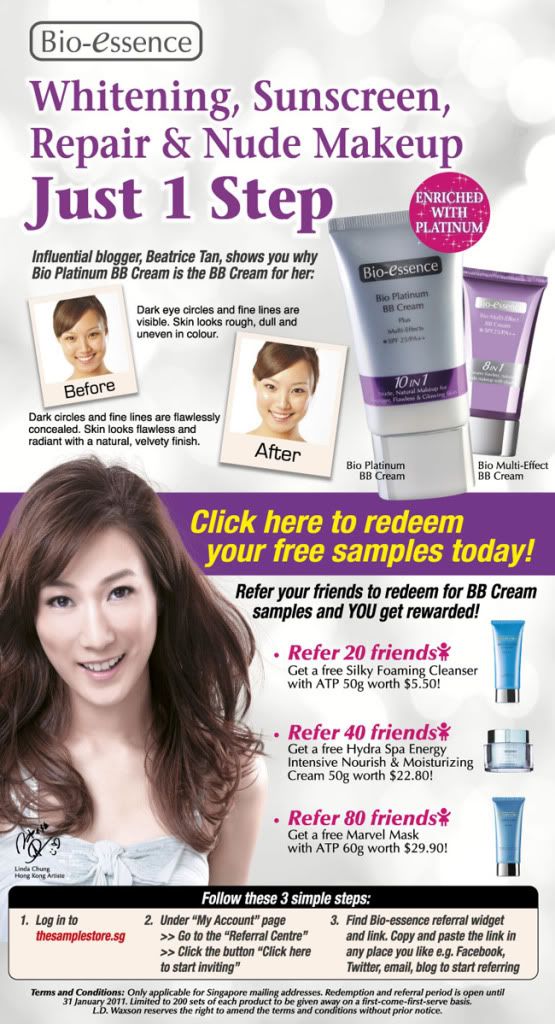 shall end off this review with a spastic face of mine! LOL.
my camera shutter clicked too fast, before i could even react. I thought it looked quite funny.
yeap, wish you girls have an amazing experience (like i did) with the BB Creams!
♥