New Skin
Was having a hiatus from blogging recently because I sort of.. lost the feeling. the feeling of blogging! Have no idea why, but i presumed it to be my blogskin and hence i had it changed!! oh oh and nuffnang finally has another advert for me to do!!
Please help me click on it!! Muahhhhhhs (L)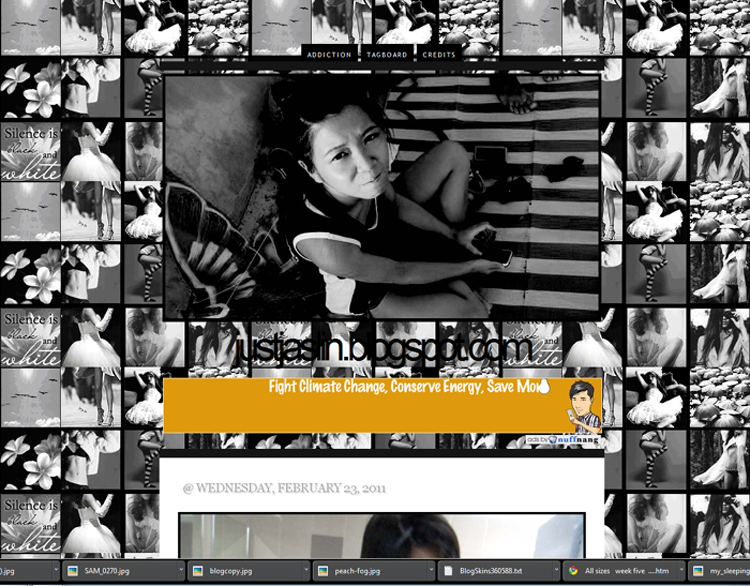 This is how my previous skin looked like if you could not remember! :P
black and white theme... but somehow as time passed, the more i looked at my blog the more i didnt want to blog!! Perhaps its because of the color scheme. And maybe the content background. Felt very..... hmmm how do I put this into words. Restrained? Inhibited?
Hahaha.
And exams, school stuffs and all that were just around the corner at that point of time, so I hadnt had time to pen things down! How how, is my new blogskin pretty? :D
My background image!!
Although it seemed like i just changed the background picture and all that... I had a hard time trying to fit / stretch the background picture as accordance to my screen! Had to figure out how to make it as a fixed picture instead of tiling (repeating) it.
I was surfing for a few nights to find for large + the type of pictures im looking for!! Something not too exaggerated, something welcoming, something simple yet rich. You know.. something like that. LOL.
actually i found some, but most of them were only available in size of width 500px. How to use as background wallpaper?! And i chanced onto Anninops on deviantart. saw some of the pictures were really nice and I went into her album. oh gosh all pretty pictures!!
I tried using some to test as my background and finally chose the one with flowers! I think they're really nice so Im here to share with you all!
=D
Oh and I also chanced onto another picture by RonaKeller. i also think it's very nice!
But too bad all rights registered so Im not sure if I'm allowed to share it here.
Credits to : RonaKeller!
Ok and right now..... I need to tweak some stuffs regarding my blogskin!
Will do up another post very soon to do some catchup! :)
P.S. AND I HAVE A HELLO KITTY CURSER!!! will tell you girls more about it soon!
Love. xoxo