Money Matters
Hello guys!!
I have just got back home not long ago from my product training for Sony! I will be working this upcoming Comex IT Fair for Sony! Base pay is really low,... but I really hope I can earn more this holiday!
Reason being I'll be going to Tioman next thursday for 4d3n and I am paying for my own trip!! The basic tour fare was $218, and dar0 would be paying the extension night for me. So I have to pay $188 on my own!
It may seem little to you... or insignificant when you take money from your mum or dad... but when you're paying for yourself this is a huge sum of money!!! Told my mum I wanted to pay for my own was partly to psycho her into going for this Tioman trip and partly to let myself grow up.
Cant forever be spending my mum's money. So when I wanted to pay dar0 for my tour fare, my bank only has like $143 at that point of time. LOL. Eh, not that I never save any money throughout my 19 years ok. I used to have a savings account, but my mum opened another bank account for me. More like for my allowances / my savings to let me do whatever I want with it. So that I would not be conned into emptying my whole life's savings. hahaha.
So I'm still paying my boyfee by installments of $50. Only paid him $100 bucks so far. By knowing that I'm still oweing somebody gives me more motivation to scrimp and save!
Ok so besides this sum of money... Comex IT fair is around the corner. My singtel plan is also up!! I can finally get a new phone. Because LG Viewty sucks and it spoils the moment my warranty is over. Back to using my Sony Ericsson Walkman, but it despises my singtel SIM card and I get a "Invalid Simcard" error everytime somebody messages me and it takes a whole load of time to restart itself until it is working again.
So I borrowed my mum/bro (bro's phone but signed using my mum's name) Samsung Omnia. But recently there's memory errors despite my whole memory is empty!!!!! So have been waiting for a long time until this IT fair, hoping I could get a good deal!! Im looking at Samsung Galaxy S now!
But you know what??? Samsung just released Samsung Galaxy Ace!!!!!!!! For 7th of March till 9th of March ONLY, it is a $0 dollar phone even for the cheapest mobile broadband plan!! (the $39/month plan)
I have went down to the Singtel shops to take a look. oh my they are very pretty!!! Slightly smaller than Galaxy S and looks abit like iphone4!!
and the best thing is, it's a $0 dollar phone for the cheapest plan ($39/mth) with almost as good specs as Galaxy S!
Why do i say it is almost as good? Because almost all the operating system and all that are comparable to Galaxy S.... and one major drawback is...... it doesnt supports Flash on its web browser. Major sigh!!!!!!
I wanted to get a phone which supports Flash so I could catch up all my xinmsn while on everyday's long and arduous journey back home from school. Really tempted to get this.!!! Why cant the offer last until 10th of March so I can take a peek at Singtel Comex Prices before making a decision.
Oh by the way, all handsets are OOS islandwide Singtel shops!!!!!!! I just called to check this morning. So yep, you can only get it on Singtelshop.com. gogo!!
For me.. I think I will wait till I lay my hands on Galaxy S!! Praying hard that there will be prices reduction of $100 off all handset prices at Singtel Comex. Still, my galaxy S would still cost a bomb and it is something I need to consider.
So you see, if I get the Galaxy S, i assume it to be expensive. 200 plus 300 plus? Oh, my mum wont be paying for my phone so I am on my own. Did I just say my bank account only has $143 before paying my dar0 for the Tioman trip???
Was thinking of trading in my mum/bro 's Samsung Omnia because it is still worth $100!! My mum gave the green light but my brother say no. =.= made such a big fuss at home about it. Why the HELL in the world would he still wants a spoilt Samsung Omnia when he has Galaxy Tab and Iphone. ???? Sua, return him sua. I'LL BORROW MONEY FROM PEOPLE.
Oh! And as I was saying, went down to The Strategy at Jurong Business Park for Product training for Sony Vaio laptops!! Was located quite a distance away from the MRT station, and the route where we walk to and fro the MRT station and building, they are all surrounded by construction works!!
And the whole route is not lit with any light at all. So by the time i ended the sun's down already and I have a morbid fear of getting into trouble. LOL. Apparently there was only ME and this UNCLE walking throughout that route, and since his walking pace is the same as mine, he was no more than 3metres behind me. LOL.
not forgetting that at the end of the day, my foot ended up with blisters!!!!
Hope I can earn more during this IT fair!! really need the moolahs badly. Besides the trip, there's my phone to get, and dar0's birthday is during this month too! and my deardear shiyun's birthday also falls on this month!
Cant imagine the money I would need to churn up. And when I got back from the training I went to NTUC to buy tofu and fishballs to cook for my lunch and dinner tomorrow. hahaha. And I ate horfun and kept the leftovers refrigerated so maybe I could eat it when im hungry tomorrow or something.
wahhh I cant imagine how am I going to survive this month!! I also bought a loaf of bread so i can steam my canned luncheon meat for 2 breakfasts. hahaha.
those who everyday get to sit at home and eat homecooked food by your parents, YOU DONT KNOW HOW LUCKY YOU ARE.
the number of times I get to eat homecooked meals by my mum per year could be counted with both my hands. yet I see so many people choosing to eat out / criticizing that homecooked food is boring.
yay magnum mini at home!!!
my mum got hooked when her boss treated all of them to magnum minis in the office!
Me at the end of the day!!!!!!
And while i was using my laptop.,.
i managed to dug out some pictures taken using the webcam previously.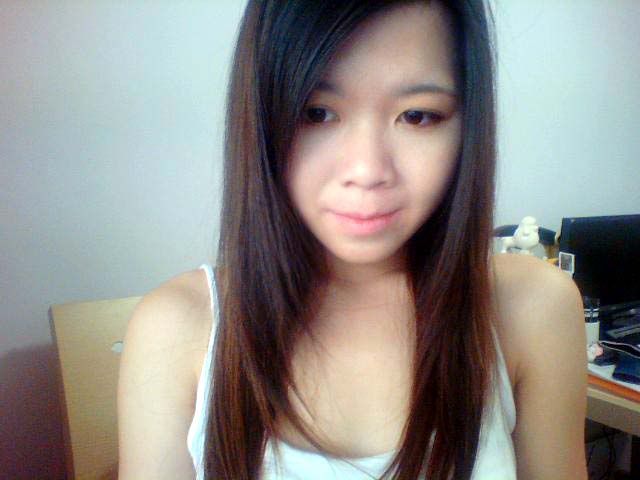 this was when I just got my haircut!!
I just dont know how hairstylists have a way with your hair.
Its like perfect in the salon, but it's another thing the next day!!!
something like..........
This
all messy and that HAHAHAHA.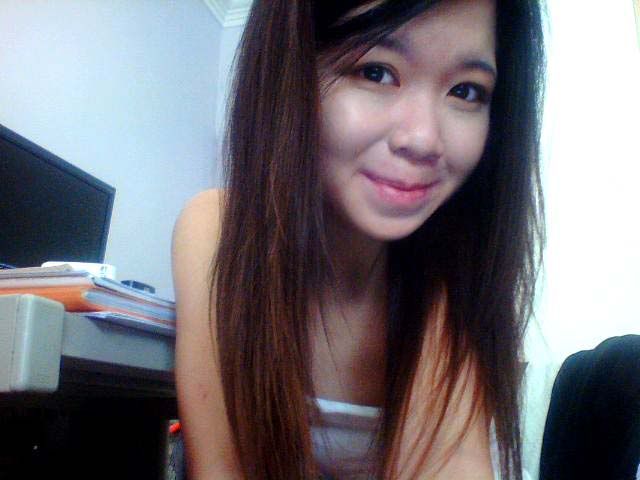 :D
okie toodles!! Updates another time!