Pulau Tioman Day 1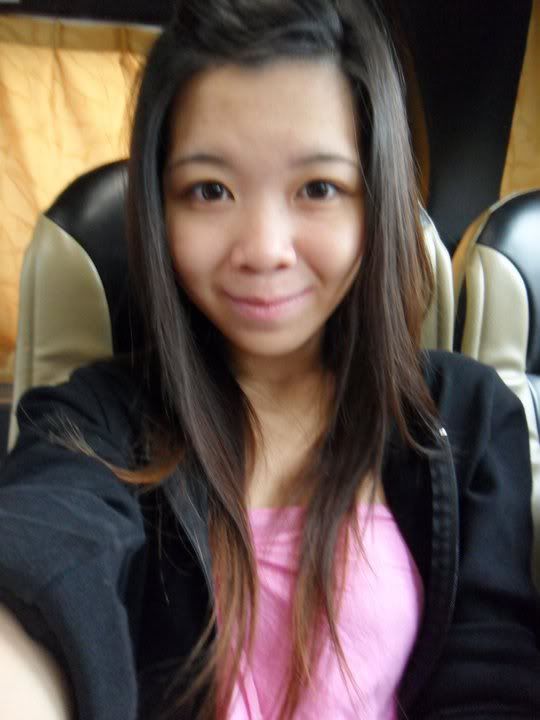 Finally, I am sitting down penning down my blogpost for so much overdue blogposts!! It is like once I have too much overdue pictures, I begin to procrastinate and the more I do so, the more I don't feel like blogging!! And I like things to be systematic so I feel very uneasy should you ask me to skip blogging about the past events and blog the present ones now. Hahaha.
And this mid March, I travelled to Pulau Tioman!!
The people there lived such a laid back life! So envious of them. But this is sort of my first beach trip!! Loved and hated it at the same time. Love the sand, food, sea and snorkelling! And I totally hated the part where you had to take a ferry over to these islands. ~.~
me on the bus! And my mum's peeking over LOL.
Went to this trip with my mum, boyfriend, boyfriend's whole family inclusive of kedi, angela, kewee, sylvie, kejie, yijing, amanda, amos, arthur, bf's mum and dad, and angela's mom and dad!
hahaha 21 people in total!!!
me and bf!
somehow, the bus trip to mersing (4hours) felt a LOT shorter as compared to taking the bus to genting!! Genting is only a 5 hours bus ride away yet the journey always seemed soooooooooooo long!
And after 4 hours, we reached the Tanjung Gemok Ferry Terminal!
Can you spot me?
After some waiting and all that we proceeded to board the ferry!!
We took one of these boats!!
omg and we were told that the journey would last 1.5 hours long!
This is me, still looking excited before the major pukefest!!
So apparently, the boat ride got very jumpy!! It's like going onto a roller coaster ride where the boat is constantly going up and down, landing on water with a "bump". Which I have no idea why. We were seated at the front, which made us suffer the most impact!!
Was very fun at first!!! Everyone seated at the front was going like "wooooooooahhhhhhh!!!!!!!!!!!!!!!!!!!" when the boat landed on water with a bump each time! Its like those heart-drop moments??
All my life, even despite the 2 hour boat trip I had from Australia to Sunshine Coast, I never even felt sea sick!!
And this time I actually felt giddy and the last straw came when I smelled some orangey-smell in the air. It is either their air re freshener working in the cabin / some passenger who sprayed it. I dont know why, became very sensitive to smell! Saw people on the left and right all throwing up, and of course I joined in the no-so-enjoyable fun.
hahaha and it was only 40minutes into the ride!!! At least it felt alot better after I had threw up. Boyfriend then started to hold me or something. Soon after when I thought I felt alright already, i leaned back on my seat and tried to sleep.
Absolutely wrong move. leaning back on the seats only makes you more conscious of the boat's movement! Then I smelled some mint smell and threw up again. LOL wth. An orangey smell a while back then and now mint!!
I think 1 hour and 50mins later then we reached the first stop - Genting Jetty.
We are getting off at the second stop - Paya Beach!!
So our total journey took 2hours instead of 1.5hours. And it freaked me out to think that I would have to take the same ferry back to Tanjung Gemok at Mersing 4 days later -_________-
All reached and unloading!!
Went to the reception to checked in, and most of us are staying at the standard chalet!!!
This is the chain of standard chalet where we were all connected by this pathway!!
Lots of fishes in the pond.
The view from my room!!
After settling down abit, the guys started to get naughty and decided to catch some fishes in the pond. LOL. These fishes are kept by the resort people and of course fishing is unprohibited!!
But they started to have a go at it using bread as baits!!
And all of us tried it LOLOL. We had put them back into the water after that,
ok one!!! and we quickly put it back to the pond.
I think by then its 5.30pm and we decided to have a short nap of 1hour before heading out for yummy dinner!
The place we had our food!!
I had Pataya Rice! Food served is not bad!
And we went to get some snacks and drinks from this Aunty where we loyally purchased our snacks / stuffs from the next 3 days! By then it is night time and the guys decided to go try their luck fishing at the Jetty.
And since it was getting late, some of us decided to head back first and grab some sleep! Gotta wake up early in the morning the next day for snorkelling! And this concludes our Tioman Day 1!
Day 2 post to be up very soon!