Internship selection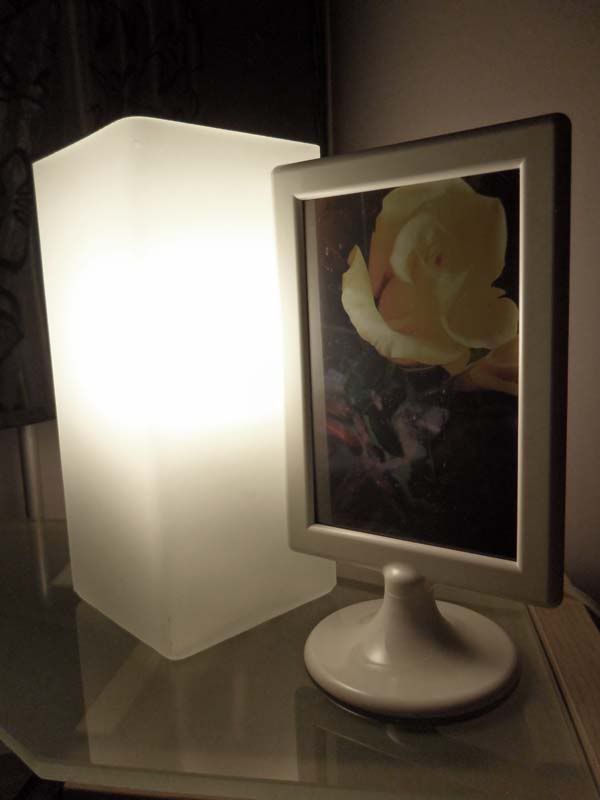 A new photo frame I got from Ikea at $1.80 only ^^ Two sided!
And I think it is pweeeety :D

accompanied with the last rose boyfriend got for me
when we were together for 8 months as our 6th month gift. :P
I think bf thinks that I dislike roses because the bouquet of roses which he got for me when he asked me to be his girlfriend, promptly disappeared from my house a week later. Hahaha, because my mum threw it away WITHOUT MY CONSENTMENT because it was withering away after tedious watering and sprinkling it with water day and night for consecutive 1 week!!

After which the next rose was the one shown above. :P boyfriend always says/tease me saying its not worth it to get it for me because I will throw it away. Hahahaha. okay lah but quite true, they wither away in a week!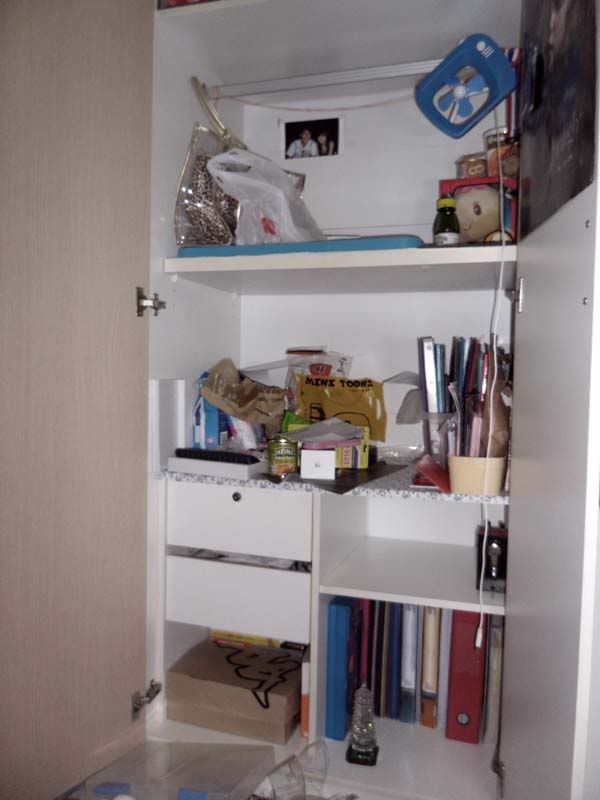 Today was spent at home alone! Started the day off by doing my Business Communication Sales Call planning, followed by a cupboard cleaning! Seriously I dont like this cupboard one bit!! Because it is always filled with books and files and papers =_________=
although I did my best to clear them as much as possible. But whenever I flip those textbooks and notes, there is always a part of me which refuses to throw them away, thinking "what if I need them next time?!" so I end up keeping them back into my cupboard.

If you see, the bottom 2 compartments are quite tidy already because I had been tidying for 2 hours already!!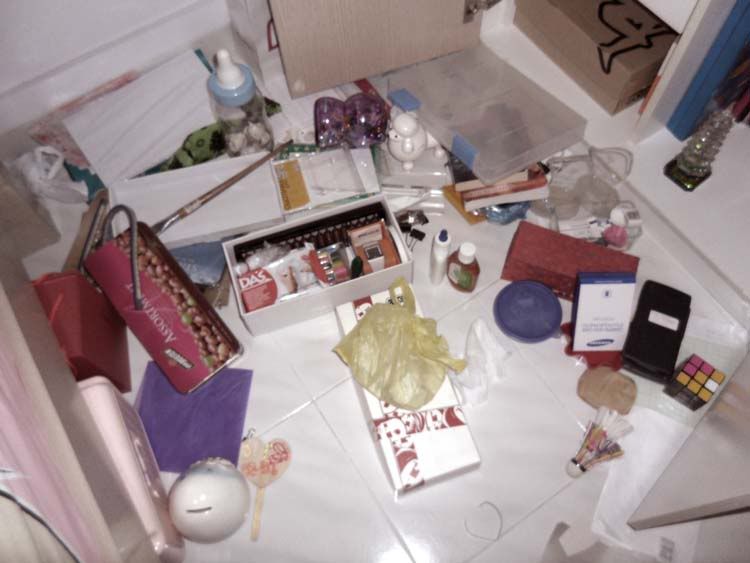 The amount of junk / stuffs which I cant bear to throw away / things which needs to be organised! Then I chanced upon LOTS of LOTS of crayons, markers, boxes of color pencils, watercolors and paint. + 2 boxes worth of random materials which I always kept, thinking that it could come in handy if I were to do any handmade card or artwork.

And I suddenly thought of how much I like and enjoy doing art work when I was young :) I wanted to pursue art in my secondary studies and I remembered my mum telling me the art scene has got little or no future. Does this sounds familiar to any of you? hahaha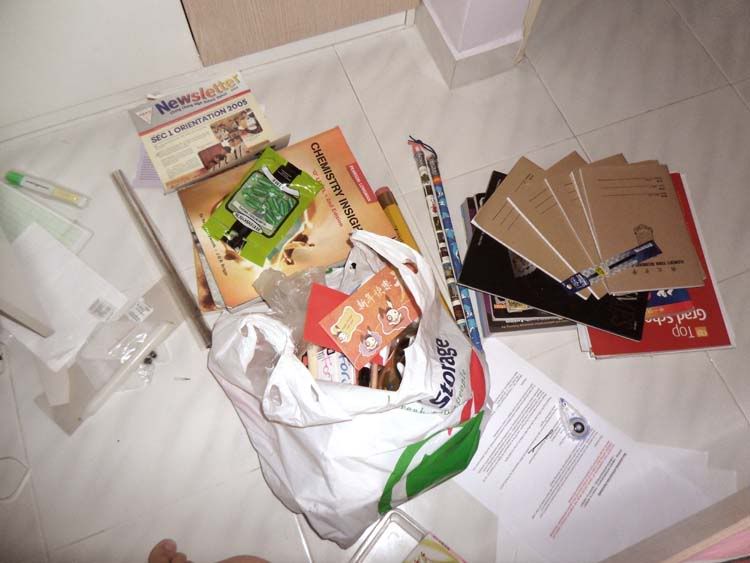 and stuffs which were to be thrown/given away!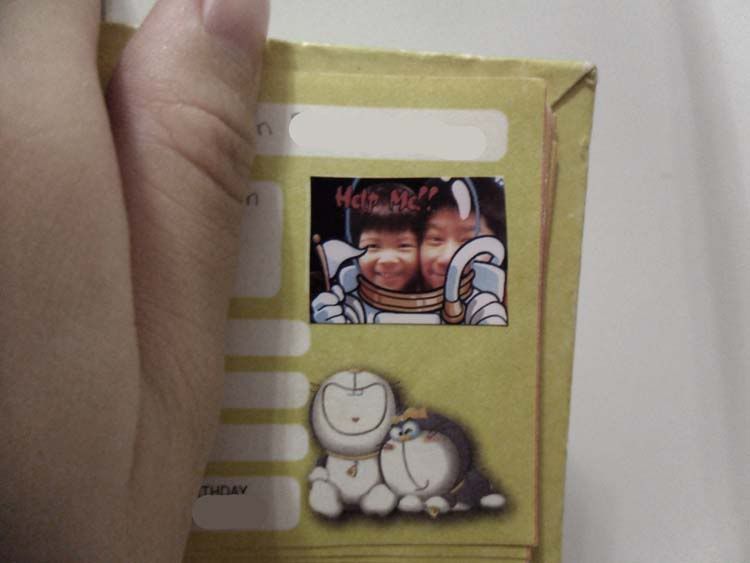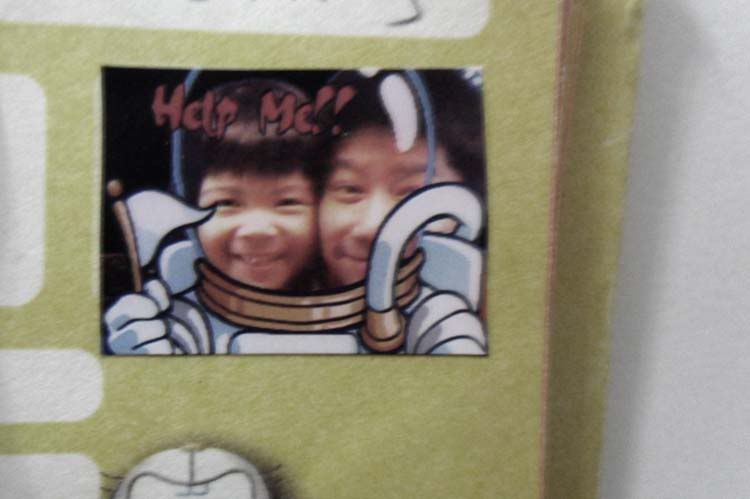 And I chanced upon this little booklet where I used to get my kindergarten / primary school friends' contacts! And there were pages labeled with my mum, dad and elder bro's name, address and contact number although they were all the same. hahaha.
memories :)
and that is the only neo-print picture I took with my dad at some random shopping mall if I didnt remember wrongly. We didnt know what controls to press and ended up with an astronaut's hat which were too small to squeeze both of our faces in. LOL. :)
-------------------------------------------------------------------------
Anyway, lately I am having hard decisions about my internship selection! Because it would largely determine my career direction in the future. + I dont believe in anyhow choosing a company, and then decide my career direction when I graduate.

If that is the case, I would have missed out one golden opportunity in working as a intern (which is also a very good job opening) in the many top notch companies offered to us to rank for internship. Yesterday Sylvie was talking to me about the various companies, pointing out which company referred to the various industry. And I came upon two industry I am quite interested in.

I am good with accounting, I like accounting, but I dont like the dull office work and environment, although it is able to offer me a very high pay in the future. I also do like tourism, because I like communication and I like the 'fun' factor. But the industry is saturated. Having two heads because of this! And I have to make my selection within this upcoming week.



P.S. okay on a side note, I think I'll go with audit!!