Sponsored Advertorial: Bouncy Youthfulness in One Drop!
My package from The Sample Store has finally landed in my hands! After much problems with the postage! Nevertheless, TSS sponsors me lots of great products. Love it!! Just realised I always forgot to credit TSS for my sponsorship of products so...
One Drop Restores Bouncy Youthfulness!
HadaLabo introduces the New Lifting & Firming Range!
Hada Labo Retinol Lifting + Firming Lotion!
I have been hearing about Hada Labo again and again and AGAIN everywhere since it hit the Singapore shelves a few months ago! Saw advertisements, posters, reviews everywhere and I heard it was awesome. And right now I have one in my hand!!
So here is a little background information about Hada Labo!


So now you know why it is such a big hit! They are all clinically researched and developed! And Hada Labo's lastest Lifting & Firming Lotion is here Singapore, May 2011 to restore that youthful bounciness for your skin with 3 premium ingredients!
And here's the rest of other Retinol Products from Hada Labo!


Here it is!! Let me check it out...


The other day in my school lecture, I overhead two other girls' conversation. So one of them actually bought a drink which the other girl had not seen it anywhere else before. And asked the other "Why did you buy this drink? Nice meh?"
The girl then promptly replied: "Because it contains collagen!"

And at that point of time I didnt know what was collagen. I knew it was something to do with the skin but I dont know what it does exactly. So now we all know! To improve our skin's elasticity!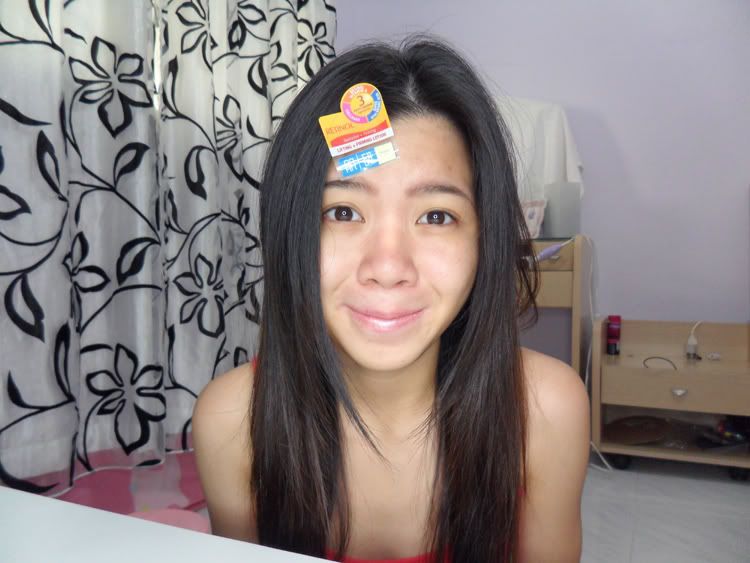 And must camwhore with the ingredients-sticker found on the bottle.

Wrinkles please dont come!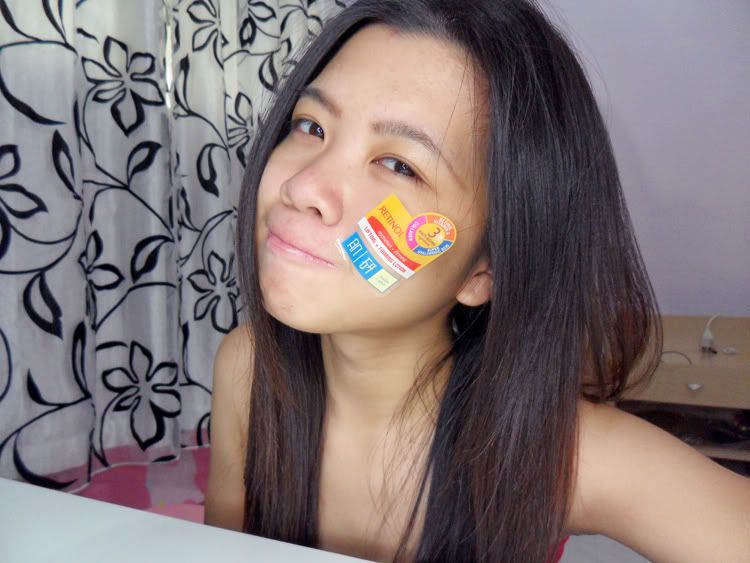 And give me bouncy cheeks!

Here is how it looks like when you open it!

Glad it's in a bottle packaging, you just have to tilt it and the contents will be out!


You are supposed to apply it on your palms!
I am applying it on the back of my hand to show you it's texture! :)

Ok my fringe is getting in the way so I pinned it up first!
Wont want any hair strands to get liquid or lotion in it!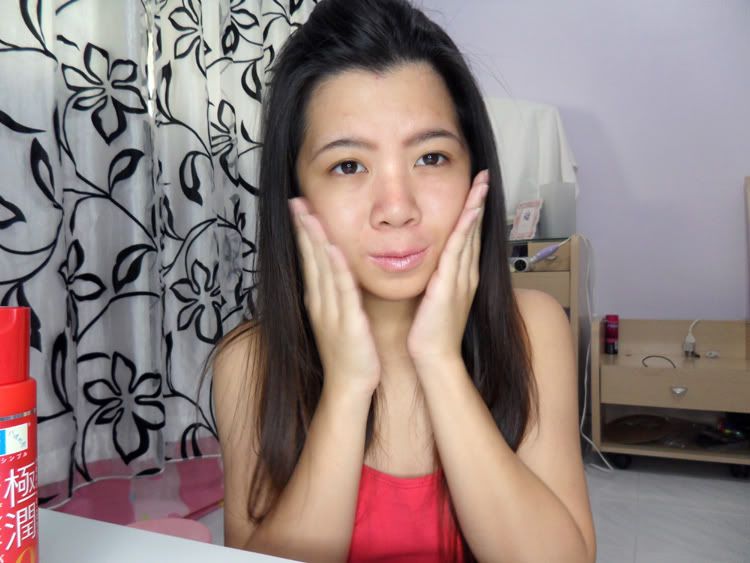 And apply it onto your face by gently patting onto skin!

By patting it always helps with the absorption of products~ And apply in a upward circular motion! You dont want to cause your skin to sag by applying in a downward circular motion :)
And after that you shall look and FEEL pretty with your smooth skin! hahahaha~
Texture wise, it is like a lotion, but not thick at all. It spreads very well, I like! Very easily applied.
Straight after you have applied it, it feels a bit oily while you are still waiting for your skin to absorb the lotion.
And before you know it, you cant feel anything on your face anymore!! It is not oily AT ALL, it does not gives me the feeling like I have slathered lotion or anything onto my face. I would not say the feeling is very light, because it feels like there is nothing at all! So I love this lotion a lot!
I almost forgot I had them on while I snap pictures away. I am not exaggerating. Besides that, it is fragrance free. No smells! :)
-------------------------------------
Other than the texture, we will also have to see if there is any results or not!

As I only received the product 2 days ago, I cant try out and tell you immediately that my face has went significantly smoother, look younger and all that.
But I remembered that I had the lotion on the back of my left hand (and none applied on my right), I decided to just snap pictures of both hands to compare!





This was the time when I have just applied finished! Waiting for my skin to absorb them~




And lets check my hands out..




I actually put them side by side to see if there is any difference, and voila!!!

Look!!!! My left hand, as compared to the right, has got lesser fine lines!!
I cross my heart that I didnt edit anything on my hand.

Here's another picture to double confirm..


My right hand looks kinda wrinkly!!
And now my left hand has got
smoother
and
younger looking skin
without all that fine lines!
Hahahah. Was really surprised!
And here are other benefits of using Hada Labo's Retinol Lifting + Firming Lotion!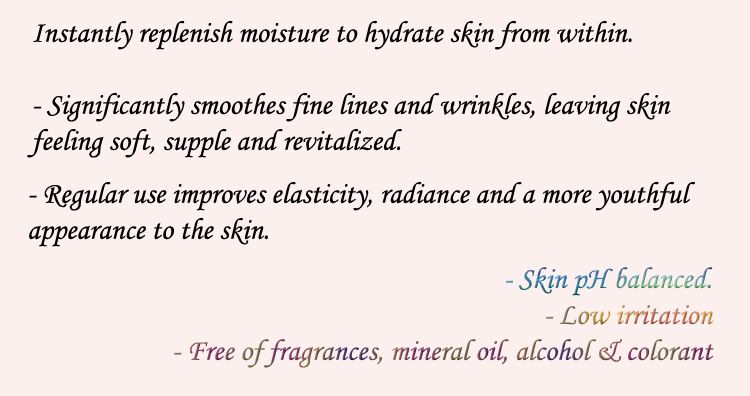 Now I can have a firmer and more lifted bouncy skin!



With the Retinol Vitamin A to keep my fine lines and any possible wrinkles at bay!




This product is awesome!!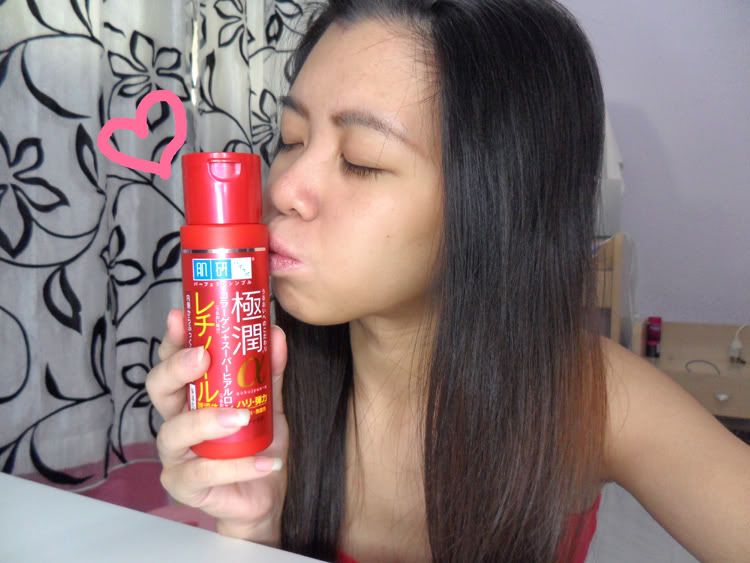 Muackz!



With Hada Labo, I am rest assured that my skin is always well moisturized and smooth!
To summarize my review... here are the follow:
Texture: Not thick, actually more of a liquid-lotion :)


Easily applied: (5/5) Yes! Because it is quite light, I can apply it easily onto my face


How it feels on the skin: (5/5) Only feels slightly oily while waiting for skin to absorb, but after the lotion had been absorbed, skin does not feels oily at all and instead it feels smoother. Doesn't feels like I have anything on. Which is something I like a lot. Wont feel like I am clogging my pores hahaha.


Effectiveness: (4/5) I am giving it 4 stars because I have not really used for a long time on my face. But I am impressed with the quick results it showed on my hand where it reduced several fine lines. :)



Thank you Hada Labo and TSS for the sponsor!
And to my blog readers, grab some samples and try at home!!
You can redeem your Hada Labo Sha lotion samples here: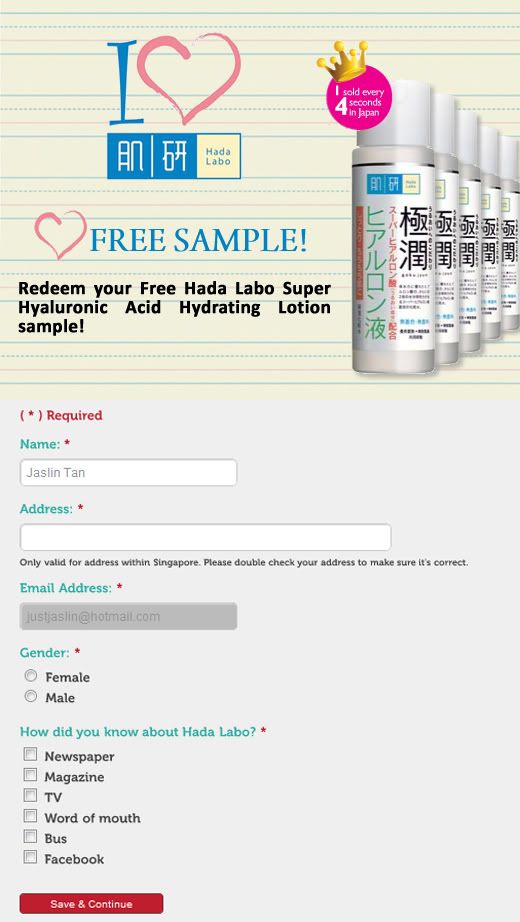 Alternatively, you can redeem them at:
http://www.facebook.com/hadalabosg?sk=app_151292538267800 or
http://www.facebook.com/hadalabosg !

Hope you girls will love them! ;)