Sponsored Advertorial: Prevview, say goodbye to Paper Resumes!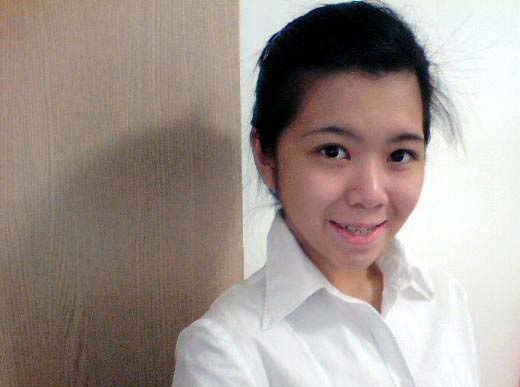 Always racking your brains thinking how to come up with a professional looking photo to put on your resume? A photo which will represent not only you, but also a photo which will leave a deep impression on the person reading through hundreds and thousands of paper resumes? No worries!! I am here to introduce you a very interesting website!!
P.S. by the way, that was the photo which I took using my laptop's webcam camera and cropped it into my resume. HAHAHA. I seriously have no idea where and how to get a professional picture of yourself done up nicely. There must be a certain angle, certain smile, certain charisma... SUCH A HASSLE!!

So here I am, introducing you Asia's First Interactive Video Job Portal - Prevview!!
As the description says it, this website is a Job Portal like Jobstreet, JobsDB and so on. However, your resume will no longer be on a piece of paper! You will be able to upload your own video resumes! Known as Visume at Prevview!
http://www.prevview.com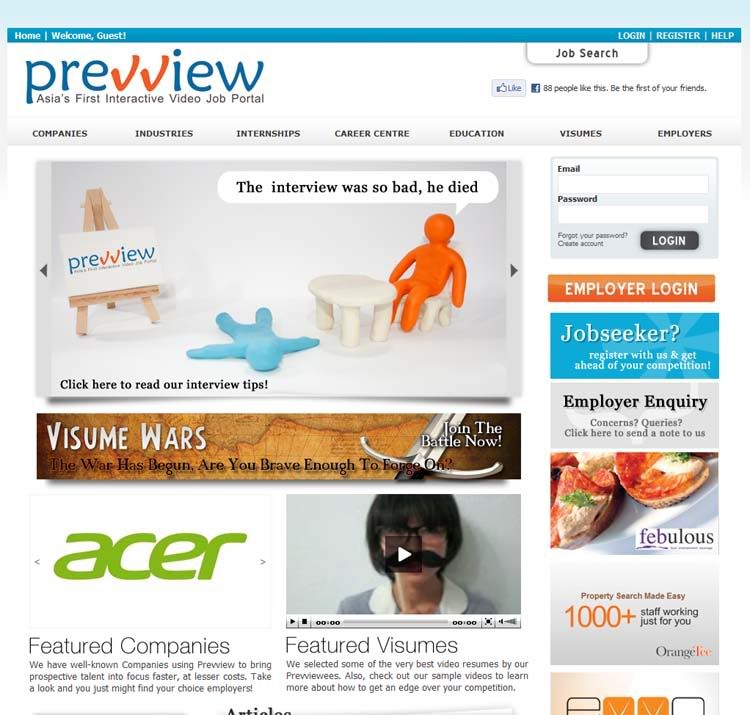 This is their main website homepage!! Here's more information about Prevview!
1) Dedicated Profile Page – Just like Facebook and it's Free!
Imagine having a jobseeker profile where you can express your true self professionally and effectively. Your outstanding soft skills and vibrant personalities will no longer have to be dormant within a piece of paper.

Prevview enables you to give a voice and personality to your paper resumes, through cutting edge video streaming technology. No need for document attachments your potential employer. Speak to them directly through your visumés and let them know why you should be hired! You will also be able to back your visumés up with downloadable important and relevant documents such as cover letter, resume, portfolio, and reference letters .



2) Two-Pronged Approach To Job Search
A) Search for Jobs with our comprehensive search function and apply immediately. Because their Employers are provided with unlimited job postings, jobseekers can rest assure that they will get the most updated job vacancies in town.


B) Be headhunted by registered Employers - All employers are provided with the Search capability where they can search for and request to interview candidates.



3)

In-Depth Information about Employers
At Prevview, they have companies which are sectioned into various industries for you :)


We all know the importance of research before going for an interview. We also know how important it is to understand a job scope before applying for a job – no one wants to come off as unsure or be taken by surprise during an interview.
To enable jobseekers to be as well prepared as possible, Prevview has created dedicated profile pages for employers as well! Everything you need from the HR Video, to Written Profiles and comprehensively described Job Postings to Getting Hired Tips and Q&A can be found under one roof, the Employer Profile Page.
With our tech world ablaze with fancy gadgets, Prevview assures all jobseekers that making a visumé takes only 5 simple steps. Prevview.com is well furbished with a comprehensive video guide as well as Visumé tips and articles to help you along the way.
Here is one article which I found it quite interesting!
9 mistakes you should never make!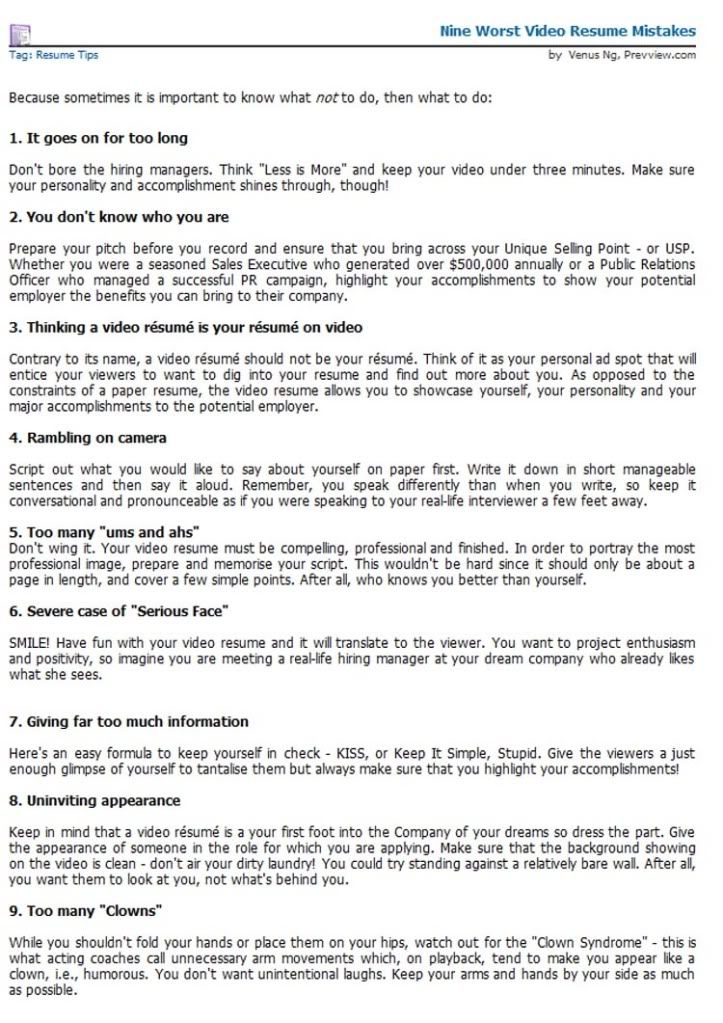 [URL to Visume Guide: http://www.prevview.com/index.php/visume/visume_tool]
A) All profiles are viewable only by registered Employers. And nobody (including Employers) will not be able to save your video on their computers from Prevview!
B) You have the option of keeping your profile entirely private [employers cannot search for you, but you can browse through employer profiles and still apply for jobs!].
C) The "Block" feature lets you insert keywords that will block views from everyone associated with them. For e.g. Prevview is your employer and you do not wish for them to see that you have a profile on the portal. Simply enter Prevview as a keyword and any Employer associated with Prevview will not be able to view your profile!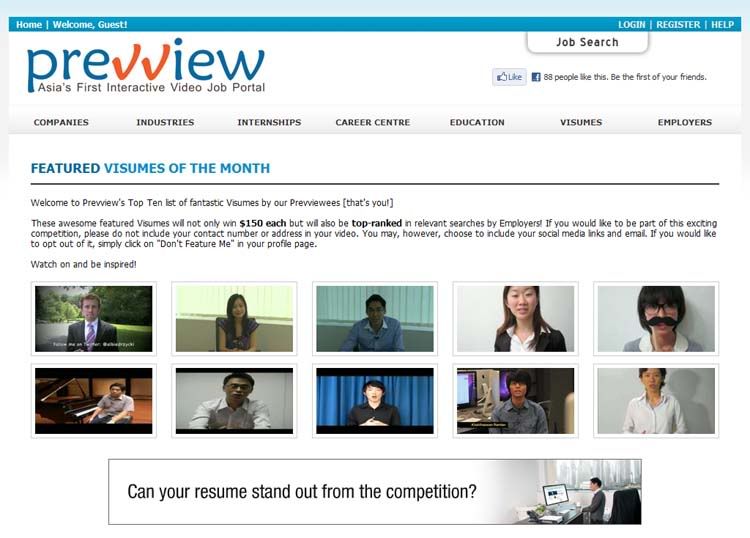 So.. enough of all these information. Let's take a look at all the other Visumes uploaded by others under the "Visumes" tab! At Prevview, they will also features a
"Top 10 List of Visumes"
where they will be top-ranked in relevant searches by employers! The person featured will also walk away with $150 cash! Watch them and be inspired!
Right now, there is a contest going on at Prevview and I found that many others have also uploaded their Visumes on
http://www.prevview.com/visumewars!
[Alternatively, you may click on the picture to be directed to their webpage of VisumeWars!]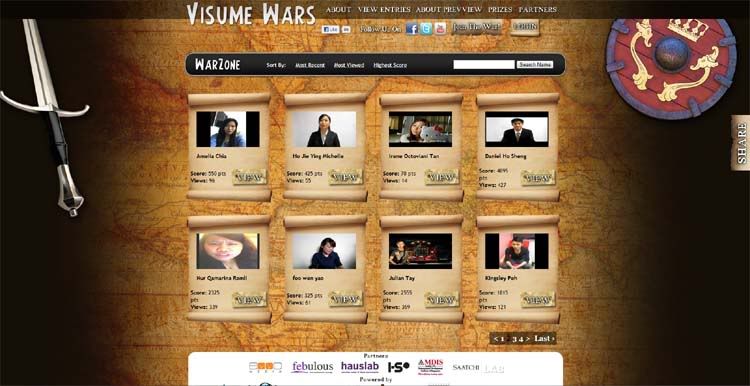 The list of Visumes that others had uploaded to take part in this contest! Went browsing through the pages. Saw that many were either very professionally and seriously done up with suits and all, and many were also taken in a very comfy environment, like home. But I came across this one Visume which I felt very interested!
A visume entry by Julian Tay. I love his Visume!!
Unlike many others which converted their paper resume into a video by verbalizing their resume content, the guy's visume showed a lot of creativity in his Visume!

Lots of interesting background and visuals which showcased his talent and his character best. A lot of effect must have be done as well! Felt that his Visume is a perfect example for Prevview's Objectives - a jobseeker profile where you can express your true self professionally and effectively.
As I cant embed the video, you can watch it
HERE
! And you could vote for the entries which you like as well! I have been mentioning about a contest here and there in my blog post, so here's more information about it!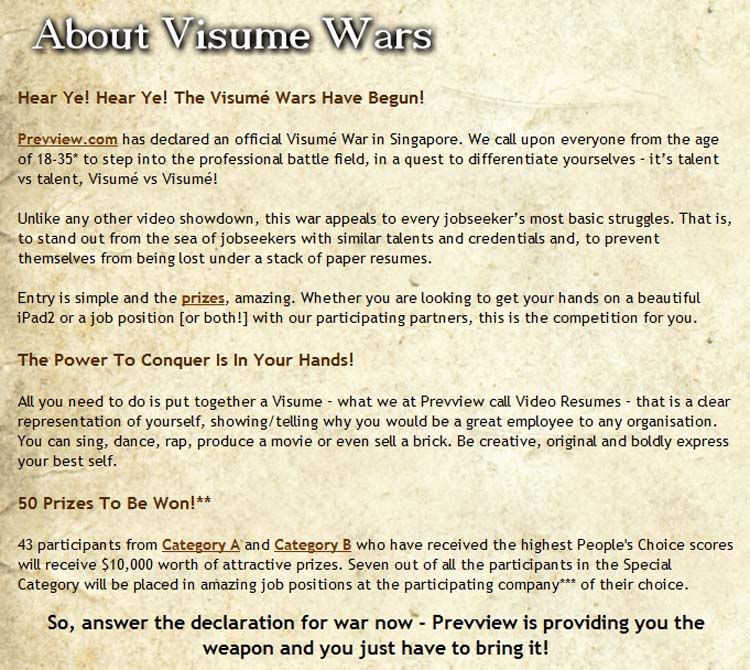 What's available on the VisumeWars page is that you could also get information about the potential employers and available job postings! Here is a screenshot of the Job Positions under the "Prizes" tab!
There are two categories with attractive prizes to be won, so do check out their page!! The People's Choice category and Employer's Choice category!
I know some people dislike contest which involves garnering votes from friends which could proves to be a little bit biased, they have
another category
(Employer's Choice) for you to join, in which it would be the employers who will be judging your Visume! Here's a short snippet on the prizes you could walk away with!


So how do you enter?!
Simply create an entertaining 90 second Visume that tells us why you would be a great Employee to any company. All entries need to be uploaded to www.prevview.com/visumewars. Visumes should be no more than 90 seconds long with a file size under 300mb. There's also a brief application form to fill out online!
1)

Show and Tell

us why you would make a great employee. You may even ask your references to appear on the Visume and pitch on your behalf.
2)

Creativity –

you can sing, dance, rap, produce a movie or even sell a brick on your Visume. What matters is that it must represent you.

Deadline

The last day to enter the competition is period 23.59 Singapore local time, 1 August 2011! It's important to get your entry in early as we won't accept responsibility for late, delayed or misdirected entries.
So, answer the declaration for war now! Prevview is providing you the weapon and you just have to bring it!

*The competition is open to anyone in any country. However, collection of prizes will be done in the Singapore Prevview office.