Never enough of puddings!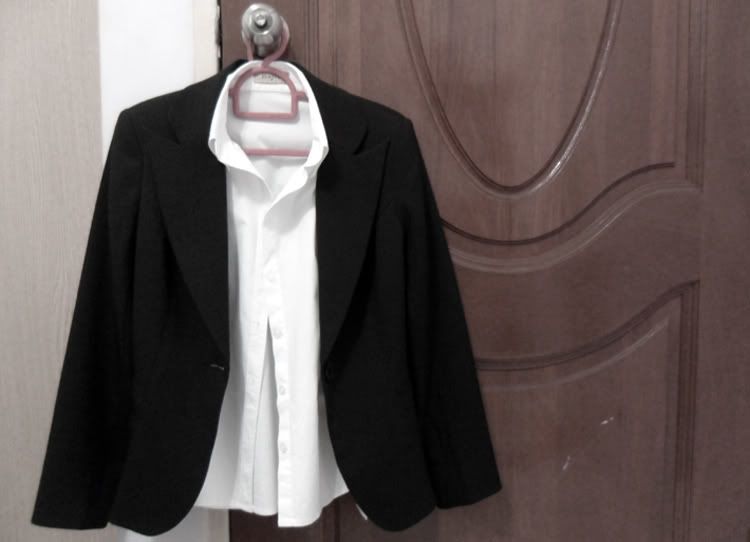 Earlier on today, I am finally done with my integrated project presentation!! I only have one last presentation this wednesday (tomorrow, that is) and that pretty much concludes my semester other than 2 more exam papers in mid august. No more classes and everything!
It is my last study semester in Ngee Ann already. For the whole of next semester, I would be having an internship with DBS Bank! Not too sure about the nitty gritty details though!
Finally, I get to have some well deserved break. Well, temporary before the exam period thing kicks into my system. It was totally insane for the past 4 weeks!
During the
1st and 2nd week
, we had some test papers going on so we were mugging through that 2 weeks.
And on the
third week
, it was a report submission for our Marketing Research module and our group only had 1 week to churn out a
200+ powerpoint slides
worth of research findings and analysis. Burned some days in school by staying overnight at the loft!
And on the
forth week
(which is also the whole of last week), Monday to Fridays and even Sundays were spent in school to churn out our integrated project presentation. Sometimes staying as late as 10pm in school! And not to mention I also have a BCOM solution selling assignment to churn out in the same week.
FINALLY, everything (well most) is over!! Shall probably rest for a few days before starting revision for my final papers!
(I am not in the following pictures, so you dont have to look for my face!!)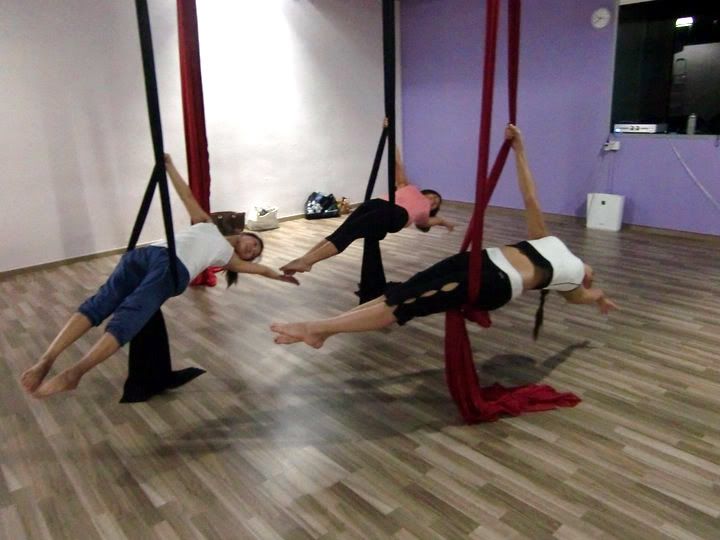 And these was what I was getting up to every wednesday night!!
If you remember, I mentioned signing up for an Aerial Silk class with Groove Singapore at Suntec City! I am not in those pictures above!! These pictures were actually kope-d from my instructor's facebook page. Hahahaha.~
But I wanted to share with you guys what are some of the stuffs which I had learnt in the past 3 weeks. :)
1 hour of lesson per week is simply not enough! hahaha. cant wait to learn even more, but this is only Aerial Silk Beginners Course 1. There is still 2, 3, 4. And then intermediate classes, followed by advanced classes. Gosh, by then I would probably have spent thousands and thousands on classes. Hahaha.
I really love aerial silk! The way you can spin in the air, and do many many stunts with the cloth. So flowy and graceful. Hahaha~ perhaps next time I would take pictures of me on them =P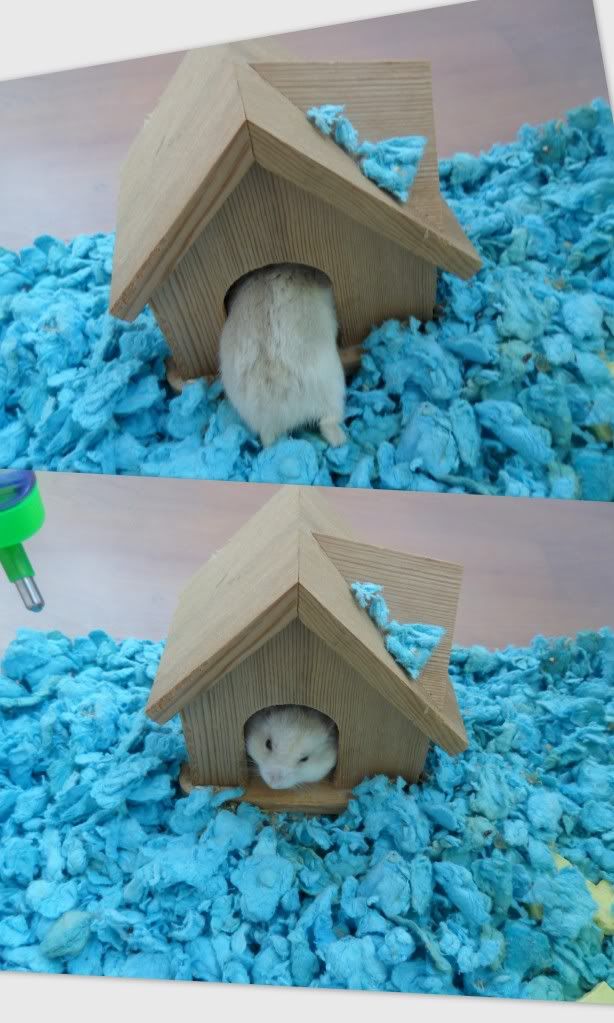 And on Sunday, I manage to go over to bf's house to take care of my hamsters again! Missed them so much!! And the one you just saw above is the PaPa MoMo. Hahaha.~

And just to share with you more pictures of Papa Momo and Mummy Puffer~
Put them back together last week and they are always playing with each other!!

Following pictures credited to Yijing's camera!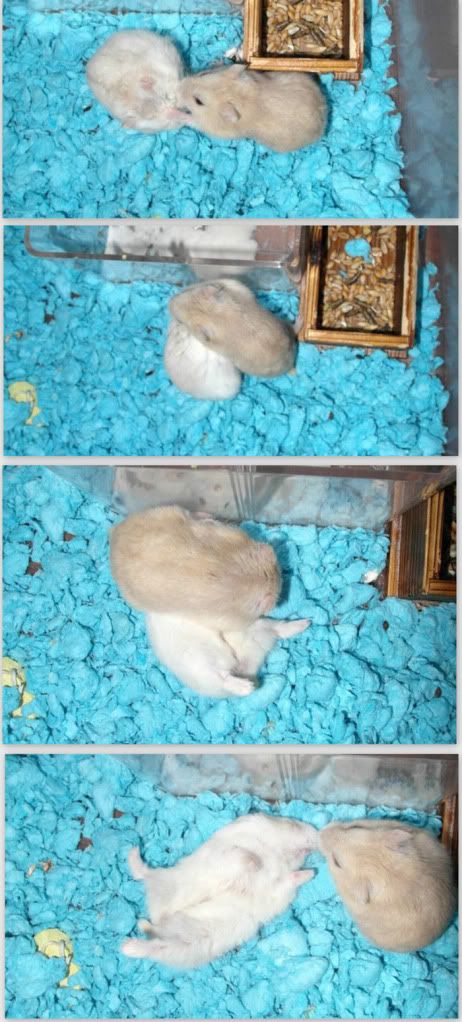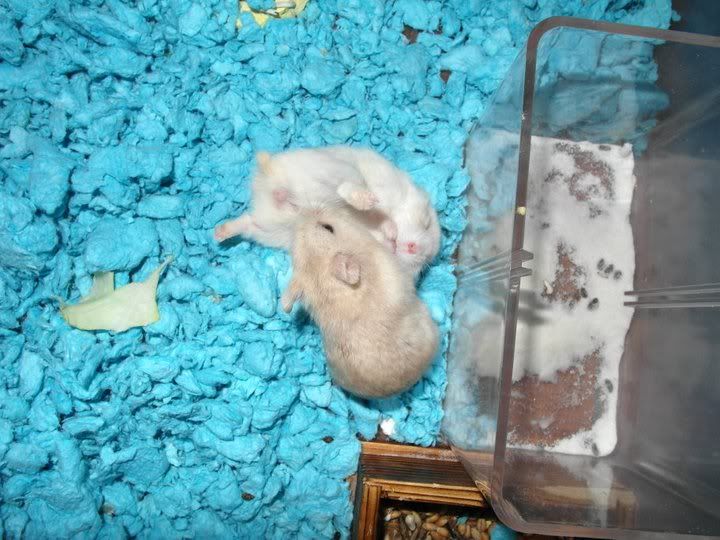 At the end of the day. Hahaha I just love how Puffer would always disturb MoMo and he would just lay on his back and let her disturb. LOL.

And I guess this behavior of mummy puffer had been passed down to her daughters and son..


LOL.

you see what I mean? They like to disturb each other. Hahaha. Of the 3 baby hamsters, 2 of them are females and 1 turned out to be male!!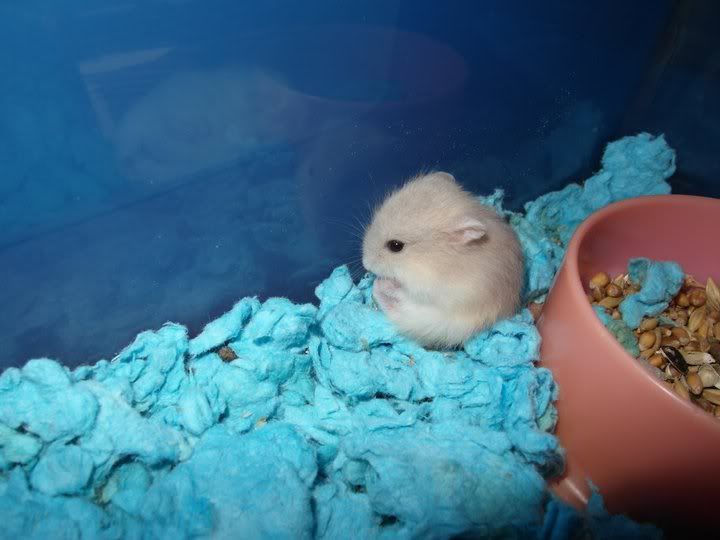 And these are some videos I took!! I had uploaded them on youtube quite some time ago, just that I hadnt had much time to share them on my blog!!

This was when the babies were still 2 weeks old!

And finally when its turning 3 weeks, we can finally pick them up!
Sooooooooo cute when it noms on the cabbage!
And I just took this video last sunday! They are currently 5 weeks old!
Anyway.. here's the thing. I will be selling my 3 hamsters baby away!! Wanted to keep them for my own at first.. but I realised that I may not have the ability to do so! When these babies are around I tend to look at them all day and neglect (abit only ok!!!) the parents. LOL.
No la kidding.
Yea so anyway, here are the details:
DOB: 24th June 2011 (5 weeks old today)
Breed: Pure Yellow Blue Pudding Hamsters
Price: $25 per pudding, $20 if you are able to come over to collect the hamsters personally~

4th generation of pure yellow blue pudding hamsters, never inbred before. Parents not siblings, so would not have to worry about inbreeding. Fed with premium vitakraft food for nice fur coat. Currently there are some enquires for 1 female hamster, so I still have a pair left!

If anyone is interested, just drop me an email at justjaslin@hotmail.com!

Hoping to find a caring lover for my pudding hamsters. :)