Happy Birthday Grandma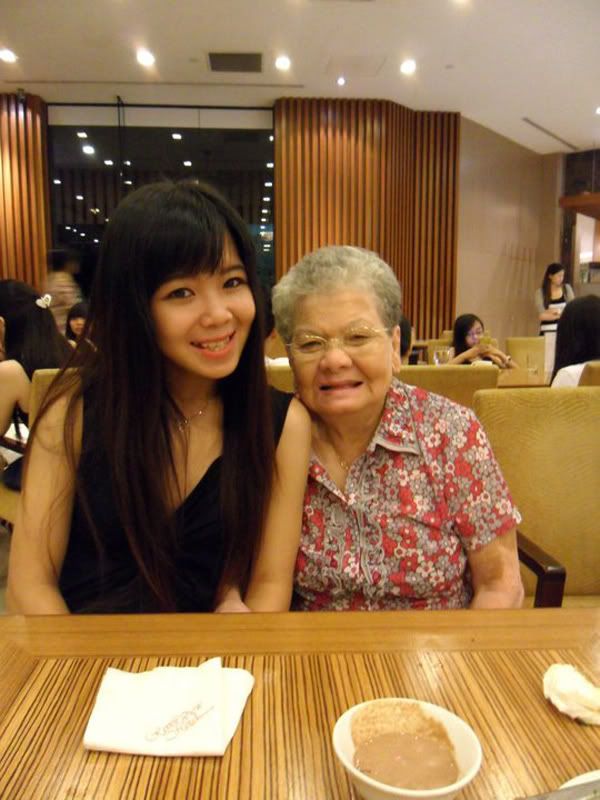 My Grandma's 75th Birthday!!
hahaha actually these photos were taken long ago.. when I just had my short fringe and before I had my braces treatment. Hahaha. But I thought the pictures were nice so I must blog!!
And we went back to River Garden coffee house for buffet dinner!! If you remembered, we went to this restaurant years ago to celebrate my grandma's birthday as well. :D
So we sat around and ate till our stomach cannot take it before going to the back of the restaurant out for some pictures~ Miss the scenery here.. quiet and peaceful with soft jazz music playing somewhere around.
2 other pretty cousins of mine~ Jeanie and Daphne from left to right!
I'm older than them but... WHY ARE THEY TALLER?!?!
ksdhfsdklsgksdhgksdfghrd
This 2 indians forever making fun of my height one lor. I'm not short but I am fun-sized!
mum!
and do you know why we went out specifically at 8pm?
Because we get to see the fireworks display!! Just nice it was during the NDP rehearsal on saturdays and we get quite a nice view from where we were!
and and........ you gotta take a look at this picture for a second time! i love this picture to bits!!!
will be scheduling posts for some time this week so do come back to read!
And again...Happy Birthday again to my Grandma!!
And may I wish you longevity and good health ahead :D :D