60's Empire waist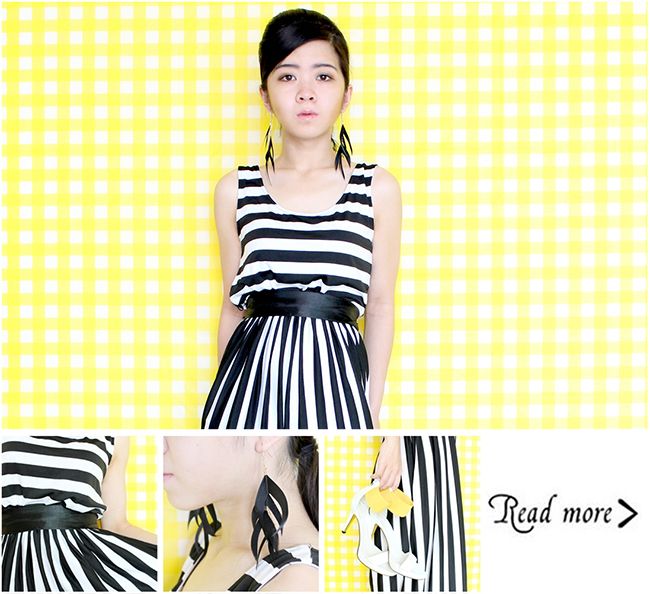 FASHION BOUNDARIES
Today's post is going to be a little different than usual, so are the pictures which are very 60's inspired. I had wanted to do a themed shoot for a long time, and it just so coincided with the requirements of a finalist under Levi's Best Fashion Blog category in SBA 2013 to share something from the 1960s which inspires me. As much as I like many things from the 60s such as bold prints, bright colors and the rise of interesting geometry shapes and graphic designs on clothing, it was a little different when it comes what
inspires
.
1960s was a revolutionary decade in the landscape of fashion, where it laid the foundation and paved the way for today's trends. Among many of the fashion trends which emerged, what caught my attention was the introduction of empire waistlines during a period when corsets and hourglass figures were the norm. The empire waist is more than just a waistline that sits higher than the natural waist. It represents an anti-conformist attitude to how a woman was supposed to dress, as it challenges the boundaries to fashion which the society deems acceptable.
Most of us girls would have at least a couple of clothing with an empire waist, and it has came a long way to become an everyday apparel which we wear today. It is impressive to know that the name "Empire waist" originated back in the 19th century of French domination during the "First French Empire", and the higher waist placing was created by a royal lady of British birth named Emma "Lady Hamilton" who lived during the First French Empire.
It is amazing to learn of what that was originally as a model and artistic muse, had been able to take the fashion industry by storm, influencing the designers then to create high-fashion and formal wear for the 60's period. This actually reminds me a lot of Twiggy, a revolutionary model during that era which changed and shaped French's fashion landscape and the modeling industry with her unique and skinny look. Ahhh see what my train of thoughts have digressed to.
Outfit
Earrings: H&M
Romper: Ezytred.com
Heels: M)phosis
So as always, I like to give this inspiration my own spin and designed this shoot entirely by myself! Since it's a very 60's inspired shoot, we are talking about bright colors, graphic patterns, and nothing quite like a bouffant hairstyle to sport the 60's beauty look in all its glory. Make up also focus less on the black eyeliner and more on the eye-shadow; which works for me because I adore replacing eyeliners with eye shadows.
I'm wearing my striped romper which is a close rendition to an empire waist, and decided to give the shoot an interesting splash of contrast with a bright yellow checkered box background (hey that's actually a tablecloth from Cold Storage!) ... -weird silence of awkwardness -
But, I totally love how the romper is working for the pictures. It creates funky stripes with movement, where the empire waist does nothing but to help further accentuate my body's length and give an illusion of a longer and leaner frame.
In these days, the empire waist is more commonly viewed as a go-to dress silhouette when we are feeling less than fine with our body image or self consciousness. Ironically, these negative thoughts of self-loathing were not the inspiration behind the empire waist for both its inventor Emma "Lady Hamilton" or that of '60s designers.
The empire waist was born because during its tie of birth, fashion was flexible to change. And this is the crux of the point that I find it inspiring, and a notion that I hope to get across. – The empire waist signifies and represents the practice of innovation and experimentation, not a creation to conceal the beautiful bodies of women. I wish that the next time you slip into an empire waist dress; you will come to remember what it represents (and what it is not!). Be daring to dress because I believe there are no boundaries to fashion or the way you wear your clothes.
The '60s period will always be known in the fashion world for laying the seeds of change which had paved today's fashion trends. In fact, the Spring/Summer 2013 fashion trends (especially brands like Moschino and Louis Vuitton) that are all the rage in the market now refreshes the 1960s fashion with lots of shift dresses, bold graphic prints, checkered designs and also PVCs for accessories.
Do you also have something from the 1960s which inspires you as much? If you do, please share with me! And I also hope that you enjoyed this article and the pictures as well.
-------------------------------------------------------------
This entry will be submitted as an entry post under Levi's Best Fashion Blog category in Singapore Blog Awards 2013. If you have a moment, I would be more than happy if you would also like to help vote for me in the following 2 categories as
1) Levi's Best 501 Interpretation blog @
http://sgblogawards.omy.sg/2013/category/?cat=501
Thank you so much for reading!